Bariatric Surgery Informational Seminar
Discover a New Life with Bariatric Surgery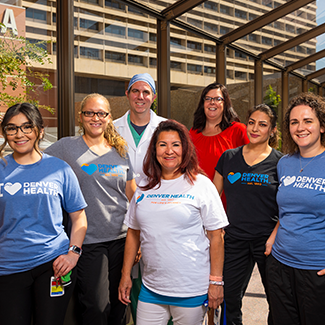 Denver Health invites anyone interested in learning more about bariatric surgery and the Denver Health Surgical Weight-Loss Center to join us for an informational meeting. These free informational seminars review our weight loss program details and the gastric bypass surgeries we offer. Attending one of these seminars is the first step in the surgical process and is required for anyone interested in having weight loss surgery at Denver Health.
At this informational session, you will:
Meet the Surgical Weight-Loss Center team
Learn more about obesity and bariatric surgery
Have an opportunity to ask questions
Following the meeting, you will have a better idea if you are a possible candidate for surgery and a detailed understanding of the surgical weight-loss process at Denver Health. We offer two surgeries: the Roux-en-Y Gastric Bypass and the Sleeve Gastrectomy. Our surgical team will help you determine which procedure is best based on your history and goals.
Topics Covered at the Sessions:
The Process and Requirements
Whether or Not You Are a Good Candidate for Bariatric Surgery
The Risks and Benefits of Surgery
The Types of Surgical Procedures Performed at Denver Health
What to Expect & What Is Expected of Patients
Diet and Nutrition Requirements
Frequently Asked Questions
Coronavirus Update
Starting May 2020, informational seminars will be moving to virtual meetings. Please register for your preferred date, and we will send the meeting invite to your email.
Sign up for an upcoming date below.
Contact:
Leigh Rieder, RN, Bariatric Coordinator
Registration Instructions:
**It is highly recommended that participants not bring young children with them while attending the seminar.**
Dates Offered: