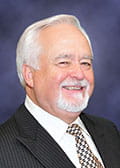 Terry is a senior vice president with Healthcare Performance Partners leading its Organizational Development and Learning Solutions practice and serves as an instructor for the Denver Health Lean Academy. He has 30 years of healthcare leadership experience with a focus on performance improvement, patient experience, quality improvement, organizational development and strategic planning.
Before joining Healthcare Performance Partners, Terry served as chief quality officer at a large academic medical center in Minneapolis where he was responsible for oversight and coordination of performance improvement, patient experience, clinical risk, safety, accreditation and organization-wide planning. Prior to that, he was vice president for performance improvement at a healthcare system in Southern California with similar responsibilities. Further, he served as president of Executive Learning, Inc., a healthcare consulting firm specializing in performance improvement, planning and customer service.
He holds a Doctorate of Education in Counseling Psychology from the University of Tennessee followed by post-doctoral work in Organizational Development. He has served on the faculty of the Institute of Healthcare Quality Improvement (IHI), the Healthcare Quality Improvement National Demonstration Project and taught graduate courses in Tulane University's International Medical Management program.