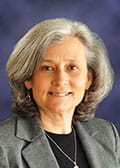 Blair is a senior director with Healthcare Performance Partners and serves as the lead instructional designer and instructor for the Denver Health Lean Academy. For more than 20 years, Blair has dedicated her career to the improvement of processes, quality, safety, patient satisfaction, employee engagement, physician satisfaction, and financial vitality in healthcare organizations. She has consulted with hospitals, integrated health systems, physician group practices, payer organizations, and pharmaceutical companies across the U.S., Canada, and Mexico. Her content areas of expertise include instructional design, performance measurement and improvement methodologies, information systems implementation, strategic planning and deployment, project management, and human resource development.
Most recently Blair has assisted large healthcare organizations in creating the systems to meet criteria for meaningful use of electronic medical records, to implement the patient centered medical home model (PCMH) and to prepare to become accountable care organizations (ACO).
Blair holds both a Master's degree in Business Administration and a Master's degree in Science in Library and Information Science from the University of Tennessee. Her undergraduate work was performed at Emory & Henry College.