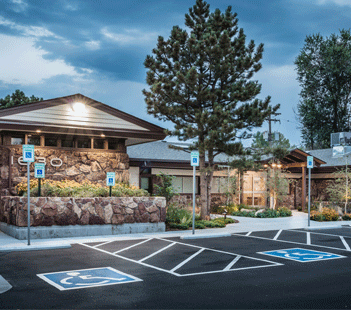 Chanda Center for Health
Chanda Center for Health
1630 Carr St
Lakewood, CO 80214
1-800-766-4255 ext. 1

A primary care clinic partnership with the Chanda Center for Health is allowing Denver Health to serve adults with lifelong disabilities better than ever before.

The Chanda Center for Health delivers and advocates for integrative therapy, primary care and other complementary services to improve health outcomes and reduce healthcare costs for persons with physical disabilities. At the 6,000 square-foot facility, adults with long-term disabilities from spinal cord injuries, brain trauma, cerebral palsy, multiple sclerosis, spina bifida, and other disabilities can receive primary care from Denver Health. Built to meet the needs of our community, the Chanda Center for Health maintains a therapeutic, collaborative and accessible culture. Individualized healthcare is the heart of what we do.
The clinic has a multidisciplinary team approach to care, staffed by:
Physicians trained in family medicine with additional interest and study in conditions specific to patients with spinal cord injuries

Physician Lead: Barry Martin, MD

A nurse care coordinator who works to evaluate patient needs and assist with medical equipment needs

Nurse Care Coordinator: Billy Morrison, RN

Medical assistants

Consuela de la Cruz, MA
Rachel Guerrero Palomera, MA

Clinic Manager: Nikki Lay, RN
Contact the Chanda Center for Health at 1-800-766-4255.
Chanda Center for Health Location and Access
Located in Lakewood and close to RTD and Light Rail transportation, the clinic is easily accessible for patients. For those with limited access to transportation or issues with travel, care navigators can assist with potential transportation benefits through health insurance or other assistance
Telehealth and Telemedicine Appointments
As part of our commitment to safety – and convenience – Denver Health has expanded its telehealth and telemedicine services, so patients can visit their provider over the phone or through video conferencing. Call the clinic or visit DenverHealth.org/telehealth for more information.
The Chanda Center for Health also empowers patients to be more proactive in their preventive care, which reduces unnecessary visits to the Emergency Department.

To schedule your first appointment at the Chanda Center for Health, call 1-800-766-4255, ext. 1.
About Denver Health
Denver Health provides health services to more than 30% of Denver's residents through its acute care hospital, nationally recognized Trauma Center and the nation's second-oldest community health center system. As one of the oldest and largest community health centers in the country, the community clinic system consists of citywide primary care health centers, urgent cares and school-based health centers.