Safety First at Denver Health
July 10, 2020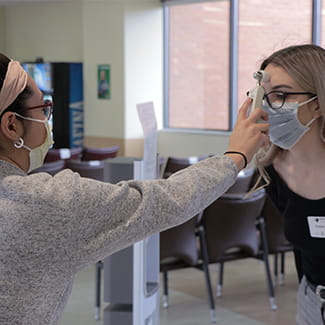 Update October 16, 2020: Face coverings are now required for everyone inside Denver Health facilities, including on all Denver Health campuses/locations per Public Health order.
COVID-19 has changed our lives dramatically, along with how we view our safety. But just as we have done for 160 years, Denver Health views protecting your health as its number one priority. In the wake of the novel coronavirus (COVID-19) pandemic, our hospital and clinics have implemented significant safety measures to reduce the spread of the virus and to further protect patients, staff and visitors.

While COVID-19 is with us for the foreseeable future, we want you to know that we stand ready to meet all your health care needs – safely and effectively, whether by telehealth (phone or video appointments) or during your health visit to our hospital and clinics. For any questions before your appointment, contact your clinic directly.
What We Are Doing to Ensure Your Safety
Screening All Who Enter the Hospital, Clinics, Urgent and Emergency Care
We have implemented mandatory controlled access and symptom screening at all of our hospital and outpatient care facilities. All patients entering a Denver Health site can expect to be checked for symptoms. Please allow an extra 15 minutes before your appointment for the screening process.
Mandatory Use of Face Coverings or Masks – for Patients and Caregivers
Even patients without symptoms are required to wear face coverings or masks while at the hospital or clinic. As of October 16, 2020, face coverings are required inside and outside in the City of Denver per Public Health order – this includes outside all Denver Health campuses/locations. If you do not have a mask, one will be provided. We follow a Denver city mandate which requires face coverings for anyone ages three and up (with specific exceptions). All of our caregivers and providers are required to wear a mask and other personal protective equipment necessary to care for you safely.
Limiting Patient Volumes in Clinics and Treatment Areas
Before entering our facilities, patients can call to confirm their provider is ready to see them, or be called by the clinic to confirm. This helps to avoid crowding in the waiting areas and reduce the risk of spreading the virus. Please contact your clinic for details.
Social Distancing
Denver Health employees practice social distancing by staying more than six feet (two meters) apart. This helps decrease the chance that you will be exposed to virus particles.
Cleaning and Sanitation
Disinfecting and cleaning the main hospital, clinics and patient rooms is a vitally important part of our daily work. Clinic rooms and all medical instruments and equipment used are thoroughly cleaned between every patient visit.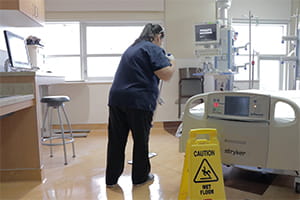 Telehealth Visits Expanded
Many of Denver Health's departments are conducting telehealth visits with patients, to allow you to receive care in the comfort of your home.
Here's how to set up a telehealth visit:
Proper Patient and Staff Hygiene
Patients have access to hand sanitizers throughout the hospital, and caregivers are required to always clean hands when entering and exiting a room.
Changes to the Visitor Policy
Denver Health is allowing only limited visitation at all medical facilities, including the main hospital and all clinics, until further notice. For details, read the latest Denver Health Visitor Guidelines.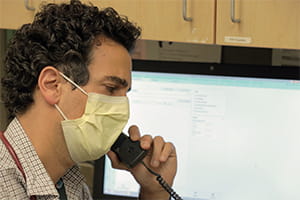 Cleaning our Ambulances and Training our Paramedics
Denver Health Paramedics are trained to the highest standard in emergency medical response and wear personal protective equipment when attending to patients. Our ambulances are specially cleaned between each transport to protect patients and ensure the highest standards of hygiene.
Testing Prior to Surgical Procedures
All outpatients are tested for COVID-19 within three days of their procedure. Elective surgery patients who test positive for COVID-19 will be rescheduled, if possible.
Testing all Hospital Admissions
We test every patient admitted to the hospital, to ensure their appropriate placement into an isolation room if necessary.
Opening Up Testing to New Patients and the Community
For all non-hospitalized patients, testing is available with an order from a provider and an appointment at one of our testing centers. Call your clinic or the appointment center 303-436-4949 for details.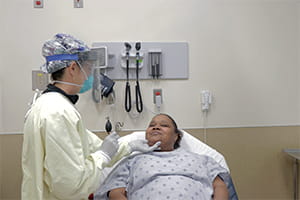 Don't Delay Your Health Care During COVID-19
Your health care needs are vitally important – delaying physician visits or emergency procedures can be harmful to your health and may risk your life. Know that our hospital and clinics continue to treat non-COVID-19 patients each and every day – and as of mid-June, we have discharged over 450 patients who are on their way to recovery.
For 160 years, Denver Health has been the health care heart of our community. We're with you for life's journey and stand ready when you need us most.