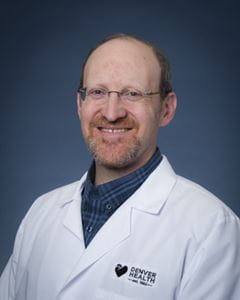 Michael A Fleisher, M.D.
Services: Radiology: Diagnostic Radiology, Radiology: Neuroradiology
Outpatient Medical Center
Radiology
660 N. Bannock St., Pavilion L, Floor 1
Denver, CO 80204

Map & Directions
Dr. Fleisher has been a member of Denver Health's attending faculty for the Department of Radiology since 2006. He received his undergraduate degree in economics from Johns Hopkins University and his master's degree in public health from Columbia University. Dr. Fleisher received his medical degree from Jefferson Medical College. His internship in general medicine was at Cedars Sinai Medical Center and his residency training was at Temple University Hospital. Dr. Fleisher's fellowship training in neuroradiology was at Los Angeles County Hospital. Dr. Fleisher is an instructor at the University of Colorado School of Medicine. He is board-certified by the American Board of Radiology. Dr. Fleisher's professional interests include the field of head and neck imaging, including malignancies and congenital abnormalities. He also focuses on traumatic injuries to the face, brain and spine. Dr. Fleisher participates regularly in interdepartmental conferences with Denver Health's Departments of Neurology, Neurosurgery, Orthopedic spine surgery and Otolaryngology. His educational interests include day-to-day education of the radiology residents on service and various lectures to the residents as a group.
Certifications
American Board of Radiology - Diagnostic Radiology
American Board of Radiology - Neuroradiology
Education
2000, Jefferson Medical College, Medical Education
Internships
2001, Cedars-Sinai Medical Center
Fellowships
2006, University of Southern California