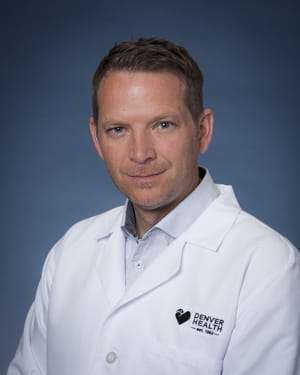 James T Gaensbauer, M.D.
Pediatrics (Inpatient Care)
790 Delaware St., Pavilion C
Denver, CO 80204

Map & Directions
Gaensbauer specializes in Pediatric Infectious Diseases and Pediatric Hospital Medicine, and is the consultant for Denver Public Health and the Colorado Department of Public Health and Environment for Pediatric Tuberculosis.
Prior to completing his training in Pediatric Infectious Diseases at the University of Colorado in 2014 and starting at Denver Health in 2015, he practiced both inpatient and primary care Pediatrics in a variety of settings including American Samoa, the Yakima Valley in rural Washington State, and in Cork, Ireland. He is an active researcher in infectious diseases and global health and have faculty appointments in the School of Medicine and the Colorado School of Public Health.
He likes working at Denver Health because of the dedication throughout the institution to their values—excellence, compassion, relentlessness, stewardship and learning, which allows them to deliver the highest quality health care to all their patients and proudly serve their community. He enjoys the beauty of Colorado, spending time with his family, and baking rustic European bread!
Certifications
American Board of Pediatrics - Pediatric Infectious Disease
American Board of Pediatrics - Pediatrics
Licenses
DEA
Neonatal Resuscitation Program
Pediatric Advanced Life Support
State License
Education
1999, Vanderbilt University School of Medicine, Medical Education
Residencies
2002, University of Washington
Fellowships
2014, University of Colorado Health Sciences Center