Ashlie Watters, PhD, MPH
Monday, December 4, 2017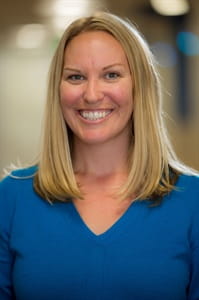 As human beings, we are all curious by nature. When you come up against something you don't understand, naturally you want to seek out an answer by gathering the facts—you are conducting research. As the Assistant Research Scientist for ACUTE, it is my job to help in the quest for answers in the medical complications of eating disorders. I am committed to rigorously investigating clinical practices which improve patient outcomes. This includes designing and running studies to evaluate clinical practice and to improve our understanding of the pathophysiology behind the medical complications experienced in patients hospitalized due to severe anorexia nervosa (AN).
Conducting research is one of the many aspects that makes ACUTE different from other inpatient hospital settings. ACUTE staff, including medical doctors, nurses, psychologists, registered dietitians, physical and occupational therapists, and social workers have all been instrumental in research on our unit. We have published several books and over 400 articles in peer reviewed journals, such as the prestigious International Journal of Eating Disorders. In addition, ACUTE staff members travel around the globe, presenting research at numerous conferences, across diverse audiences, to share with colleagues, what we have learned from our research on ACUTE.
In an effort to continually set the standard of care for the industry, the staff at ACUTE actively conduct research to support successful treatment approaches in this unique patient population. Appropriate clinical care should be identified through well designed studies and evidence-based research. Evidence based research uses the integration of clinical expertise, patient values, and the best research evidence as factors in the decision making process for patient care. In other words, patient care is based on systematic research, not opinion.
Current Studies on ACUTE
In order for research to begin, we need to receive approval from the Sponsored Programs and Research Office that oversees the administrative and financial components of all research at Denver Health and then approval from the Colorado Multiple Institutional Review Board which was established to protect the rights and welfare of human research subjects recruited to participate in research activities. Board members approve the study design, patient consent forms, and ensure that ethical principles are being followed.
At ACUTE, we have ongoing partnerships with institutions all over the country, such as the University of North Carolina, Harvard Medical School, and the Eating Recovery Center. In addition, our studies are funded through the NIMH, industry, and internally.
As we strive to further our research efforts, staff on ACUTE are also working towards future studies that are innovative and promote evidence based research in this field.
With all research, cosmic conclusions are not always necessary. With one study, we are not likely to illuminate the whole truth; rather, we may shine a light on one area of truth. This is why we are all so dedicated to practicing evidence based research, publishing our results, and most importantly, improving upon the care our patients receive while they stay at ACUTE.