By: Christina Logan, MS, OTR/L
Monday, May 16, 2016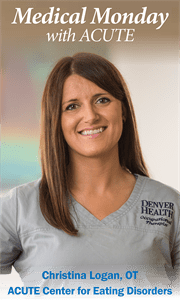 From the ACUTE team: To offer our readers a more comprehensive look into the various aspects of eating disorders and treatment, Medical Mondays will periodically be penned by team physicians at the ACUTE Center for Eating Disorder.
This week's Medical Monday is written by Christina Logan, MS, OTR/L.
A very common question I receive from my patients on ACUTE is, "So what is occupational therapy?" In fact, many people assume by the title of the profession that we help people find jobs, or that we are physical therapists hiding in sheep's clothing. We are neither, but given the somewhat ambiguous title of the field, I can understand how people draw that conclusion. If I were running for office, my stump speech would be something like this: occupational therapy empowers people to engage in meaningful activities that support participation, fulfillment, and satisfaction in day to day life. This can really be anything, from helping people regain range of motion and strength needed to perform the simplest and humblest of tasks such as reaching down to put your socks on or the strength and endurance needed to stand long enough in the shower or at the sink to get ready in the morning. This can also extend to creating routines and habits that allow people with depression and anxiety to get out of bed every morning and face the day with tools and tips to tackle daily stressors and obstacles. Even further, OTs are regarded as upper extremity experts that can treat shoulder, wrist, and even hand injuries, as well as provide expertise in promoting a healthy posture through strengthening and education. What I love about this field it that is promotes a more holistic approach to treating the whole person: mind, body, and everything in between. And get this – it is a widely practiced and respected field that can be found in Level I Trauma hospitals such as Denver Health Medical Center and the ACUTE Center for Eating Disorders, or in outpatient rehabilitation or mental health clinics across the US, Canada, and Australia. In sum, we're kind of a big deal.
Okay, enough of the publicity. By now you might be asking, what does this have anything to do with helping me treat my eating disorder? My answer is, much more than you think! When I started with the ACUTE program, I was challenged and supported by the medical team to see if there was a role for OT for people with eating disorders. What I've discovered by listening, observing, asking questions, and receiving feedback, is that there is a wide breadth of interventions that can help support the physical and emotional recovery of people with eating disorders. Based on my observations in the last year and a half, I've found a variety of specific OT interventions for people with eating disorders such as a stretching routine for neck, back, and shoulders to relieve pain and tightness of muscles that are working ever so hard to keep the head and torso upright. Or breathing and mindfulness strategies to relieve anxiety after eating or throughout the day to promote an emotional evenness that many of my patients report they struggle with. We even introduce functional strengthening using fun activities or bands, balls, or light weights to promote patients returning to what is important to them, such as picking up their child, carrying heavy bags with books for school, or even standing up without having to use their arms to push up form the chair.
The point is that OT sessions can be tailored to the specific goals, needs, and desires of each individual. I have learned a great deal from my patients on ACUTE and always looking for new ways in which to motivate and inspire them to carry on and persevere day in and day out. What I've heard from my patients is that their OT sessions have helped with specific ailments, such as improving movement in a tight and painful shoulder or reducing heart rate when getting ready for the day. I've also had patients say that is just helps them feel more equipped to address the medical, physical, and emotional causes and symptoms of their eating disorder. In a real sense, I feel like the cheerleader on the sidelines encouraging my patients to dig a little deeper and try a little harder in their work with all the ACUTE providers. Thus, I feel that OT can help in infinite ways as well as in a global sense. Thus, although you may have never heard of OT, we are here specifically to make your life more functional and meaningful to support your well being and recovery. To our future patients, I look forward to working with each of you on ACUTE.
Christina Logan, MS, OTR/L