Preparing for Your Stay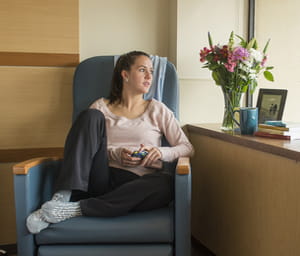 The ACUTE Center for Eating Disorders provides a quiet and peaceful place for patients with severe eating disorders to begin healing. Each patient's care is individually tailored to best fit his/her needs.
What To Expect During Treatment
Patients spend a majority of each day interacting with the ACUTE care team, beginning with daily labs, weigh-ins, meal-times and daily visits from the dietitian, psychologist, physician and nurses. During the medical stabilization period, patients are encouraged to spend free time comfortably relaxing in order to regain strength and allow the body to heal.
Labs, weigh-ins and meals are scheduled and will remain consistent during your stay at ACUTE. Daily rounds with the attending physician as well as individual sessions with the dietitian, psychologist, psychiatrist, physical therapist and any sub-specialists will be scheduled throughout the day and will fluctuate.
Time can also be set aside for the chaplain, social work, coordination of continued care, and other resources, as needed. Everything about your stay at ACUTE is individualized and designed to best fit your unique needs.
Sample Daily Schedule
Time
Activity
6:00 am - 6:15 am
Labs, Weigh-ins
7:00 am - 8:00 am
Shower, Personal Time
8:00 am - 8:45 am
Breakfast
8:45 am - 10:30 am
Daily rounds with treatment team
10:30 am - 11:30 am
Morning Snack
11:00 am - 12:30 pm
Free Time
1:00 pm - 1:45 pm
Lunch
1:15 pm - 3:30 pm
Daily rounds with treatment team
3:30 pm - 4:00 pm
Afternoon Snack
4:00 pm - 6:00 pm
Daily rounds with treatment team
5:45 pm - 6:30 pm
Dinner
6:30 pm - 8:30 pm
Free Time
8:30 pm - 9:00 pm
8:00 pm - 8:30 pm or
9:00 pm - 9:30 pm
Evening Snack for Level A
Evening Snack for Level B

We encourage you to pack appropriately for a hospital stay. Keep in mind that you will be relaxing in the comforts of your private room and you should dress comfortably.
All belongings will be unpacked and inspected by staff. Suitcases will be stored safely in a locked room. Suitcases, back packs or other bags will not be allowed to remain in the room with you during your stay.
Expensive clothing, jewelry and other valuables should be left at home. You will be responsible for your own items and Denver Health will not reimburse you for lost or damaged personal belongings.
Clothing
Bring comfortable clothing for one week. You will have limited storage area in your room, therefore only one suitcase of clothing will be allowed. ACUTE has a washer and dryer and will assist with laundry as needed.
Pants (sweatpants, yoga pants, pajama bottoms, jeans)
Shirts for layering (no inappropriate language, images, or drug/alcohol related messages)
Sweater, sweatshirt (no pocket or hooded sweatshirts)
Pajamas, night gown, robe
Undergarments
Jacket/coat, gloves, hat (depending on the season)
Casual shoes, slippers, socks (no high-heels)
Toiletries
Basic personal hygiene items can be provided by the hospital, however most patients prefer to bring their own toiletries.
Shampoo, conditioner
Toothbrush, toothpaste
Hairbrush, comb
Soap, deodorant, lotions
Make-up
Hair dryer, curling iron, flat iron
Medications
Please bring all prescribed medications, supplements and over the counter medication that you are currently taking at home. All medications must be in original packaging, with prescriptions and labels in-tact.
It is important to let ACUTE staff know what medications you are currently taking. ACUTE staff will log & store all medication for the duration of your stay. If refills or new prescriptions are needed during your stay at ACUTE, we will arrange for them to be delivered.
Entertainment
Each room is equipped with wireless Internet access, a flat-screen TV and a DVD player. Patients are encouraged to bring other personal entertainment items as needed to occupy free time at ACUTE. Please be mindful of your recovery and resist bringing inappropriate or triggering items, magazines, movies or games.
Laptop, cell phone, iPod, iPad, Kindle, hand-held gaming devices and chargers
DVDs (a small library of DVDs will be available for your use)
Books, magazines, newspapers
Art and craft supplies
Journal, postcards, stationary, stamped envelopes
Personal Comforts
We want you to be comfortable during your stay. If you would like to bring items from home, please feel free to do so. Keep in mind you will only be at ACUTE for 14-21 days, so limit the items you choose to bring with you.
Photographs
Favorite pillow, blanket
Stuffed animals
ACUTE patients are welcome to visit with guests during the following times: Monday through Friday, 2:00 –3:30 PM and 6:30 – 8:00 PM; and Saturdays and Sundays all day until 8 PM.
If outside of visiting hours, Denver Health has a variety of common sitting areas, as well as a gift shop, cafeteria, coffee shop and beautiful outdoor spaces for family to spend time outside of the patient room.
If at any time the treatment team feels that patient visits are not conducive to the healing environment, visitation hours may be limited and is left solely to the discretion of the treatment team.