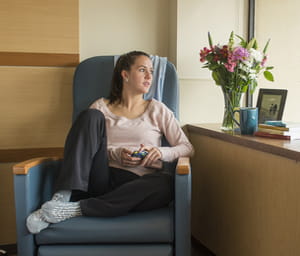 The ACUTE Center for Eating Disorders provides a quiet and peaceful place for patients with severe eating disorders to begin healing. Each patient's care is individually tailored to best fit his/her needs.
What To Expect During Treatment
Patients spend a majority of each day interacting with the ACUTE care team, beginning with daily labs, weigh-ins, meal-times and daily visits from the dietitian, psychologist, physician and nurses. During the medical stabilization period, patients are encouraged to spend free time comfortably relaxing in order to regain strength and allow the body to heal.