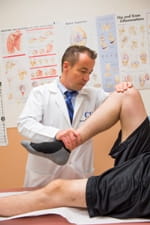 Your hips and knees are your body's largest joints, supporting your body's weight and giving you the ability to move. Are your hips or knees causing you pain as you conduct life's most basic tasks?
If you feel pain walking, climbing the stairs or even sleeping, it may be time to see the orthopedic experts at Denver Health. Our team is skilled in the treatment of damaged hips and knees, helping you return to your everyday activities.
Depending on what is causing your pain, our specialists may recommend exercise, medication, surgery or a combination of treatments. When that is not enough, advanced and minimally invasive surgery may be able to provide quality, long-term outcomes.
Our orthopedic experts have experience with a variety of hip and knee conditions.