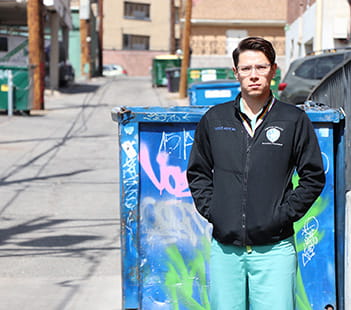 On this National Doctors' Day, March 30, Denver Health thanks the hundreds of physicians across our health care system who provide extraordinary care to patients all 365 days of the year.
Today, we're highlighting one of our physicians, Dr. Patrick Joynt, who was off duty this month when he jumped into action and helped save a man's life. Joynt did his residency in emergency medicine at Denver Health from 2016-20, and he returned full time about six months ago as an attending physician.
On March 15, after a shift taking care of sick and injured children and adults, Joynt was walking home along Eighth Avenue when he noticed people standing over someone in an alley near Sherman Street.
Joynt approached the bystanders, who said the man on the ground wasn't breathing and that they had called 911. Joynt quickly assessed the man on the ground. He wasn't breathing but had a pulse. Joynt recognized it as a likely opioid overdose.
Joynt always carries naloxone, an opioid-overdose antidote, in his work bag, but this was the first time he needed to use it out in the community. He quickly assembled the naloxone kit and administered it in the man's nostrils and helped open his airway, and the man started breathing again.
Joynt praised Denver Health paramedics Peter DellaVecchia and Robbie Wagaman, who arrived within minutes and got the patient onto a stretcher and put on a mask to help him breathe. The paramedics transported him to Denver Health, where he was observed and treated in the emergency department, and later released.
"The experience served as a reminder what a privilege it is to be part of this community," Joynt said. "It was a privilege to be in a position, with the right tools, to help a person in need. While it is easy to distance ourselves from people who use drugs, they are part of our community. They are our neighbors, our patients and our friends."
"Dr. Joynt was able to give the right amount of life-saving care which allowed us to smoothly manage the patient," DellaVecchia said. "… He went out of his way to investigate, stabilize and control the situation. This set us up for so much success."
Joynt encourages everyone to take a CPR class and to carry naloxone, commonly available as Narcan. He said it's safe and easy to administer, noting that "anyone can save a life."
The U.S. Food and Drug Administration on Wednesday approved the sale of Narcan without a prescription, setting the overdose-reversing drug on course to become the first opioid treatment drug to be sold over the counter.
Colorado residents can go to stoptheclockcolorado.org to find a pharmacy that supplies Narcan.