MyChart is home to options you use regularly, such as Prescription Refill, Appointment Center, and Online Bill Pay. The new system allows us to provide the best possible care to our patients.
Sign Up for MyChart
There are two ways that you can sign up for MyChart:
Sign up online
After navigating to the MyChart page, click on the "Sign Up Now" button on the right side of the page. You will need your activation code, which can be found on your enrollment letter, bill or the last page of your visit summary. (If you do not have an activation code OR your code no longer works, click on "Request Online.")
Follow the instructions to create an account.
Sign up at Denver Health
Staff can help you sign up for an account during your visit to Denver Health or a Denver Health clinic. You can also request instructions while at Denver Health. These instructions can be mailed or emailed to you.
MyChart Features
Manage Appointments
Request, schedule or cancel an appointment online
Receive a reminder email three days before your appointment
View details of your past and upcoming appointments
To make an appointment by phone please call (303)-436-4949
Communicate with Your Care Team
Communicate easily and securely with your health care providers to get answers to your medical questions
Pay Your Bill and Request a Prescription Refill
Pay your bill, set up a payment plan or update your health coverage
Pay as a guest – pay your patient bill online even if you do not have a MyChart account set up
Refill or renew prescriptions, ask questions and get information on specific medications
View Your Personal Medical Information
Review your medications, immunizations, and medical history
Receive lab test and imaging results online as soon as they are available – no waiting for a phone call or letter
Review instructions provided by your doctor
Access Your Family's Medical Records
Proxy access allows you to link your child's records to yours for convenient access to appointments, immunization records, growth charts and more
Using MyChart
In order to use MyChart, you will need to have the activation code found on your enrollment letter, bill or the last page of your visit summary. If you do not have an activation code, you can request one online and set up an account using your medical record number. If you do not know your medical record number, the help desk number will be operational as of April 9. You do not need an email address to use MyChart.
If you have a MyChart account with another health care organization, that account is separate and different from your MyChart account with Denver Health. Only information related to Denver Health visits will appear in your Denver Health MyChart account.
Use MyChart on Your Smartphone
Access MyChart using your phone's web browser or by installing the MyChart App. In order to use the MyChart app, you will first need to sign up on a computer or through your phone's web browser. You will then be able to create your username and password to log in on your smartphone or tablet using the MyChart app. To download the app:
Search for the MyChart application in the Apple or Android app store.
When the results appear, select the MyChart Epic systems app.
Click install. Once the app is downloaded, select Denver Health MyChart.
Log in with your username and password to access your chart.
Push Notifications – you can now receive reminders and alerts directly on your Apple or Android device.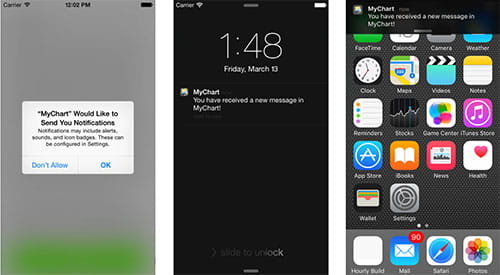 Use MyChart on Your Computer
To access your account online, visit Denver Health MyChart and go to the sign in area found at the top right of the page.
MyChart Frequently Asked Questions