We welcome you to Denver Health and hope you enjoy your visit. Please take advantage of our many hospital amenities to enhance your experience.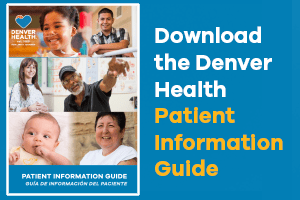 Food and Beverage Services
Patients are provided room service during their stay from the Good Day Café, which features sandwiches, pizza, salad bar, taco bar and so much more.
Internet Access, Phone & TV
You may enjoy free wireless Internet access in all indoor, public areas and patient hospital rooms. Patient rooms are also equipped with telephones and televisions.
Parking & Valet Services
Several self-service public parking lots are available on and around the Denver Health main campus, as well as Valet Parking, which can be accessed at the entrance of Pavilion B.
Accessibility Features
Denver Health and all of its programs are accessible to and useable by disabled persons, including persons who are deaf, hard of hearing, or blind, or who have other sensory impairments.
Spiritual Care
We recognize that the emotional and spiritual needs of patients and their families are important aspects for healing. The chaplain group provide compassionate support, comfort, hope and resources to help families dealing with a loved one's serious injury, illness or end-of-life considerations. Pastoral Care at Denver Health is an interfaith service respectful of all cultures and religions.
Child Life Program
The Child Life Program is designed to meet the needs of children and their families coping with illness and/or hospitalization and Child Life Zone features spaces for relaxing, playing and learning.
Clinical Social Work
Our social workers are here to help you and and family deal with the many issues you may face after a traumatic injury or sudden illness through crisis intervention, grief and loss support, victim support services, and referrals to other programs and community agencies.
Language & Interpreter Services
To more effectively serve you, we provide free language interpreter service for our patients in more than 150 languages. These services may include a medical interpreter or a telephone interpreter through Denver Health's language line. Please ask your care provider if you need an interpreter.
Main Street Gift Shop
Located on the first floor between Pavilions B and C, the Main Street Gift Shop offers a selection of food and beverages, floral arrangements, personal items, balloons and gift items.
Patient Relations Advocates
Patient Relations advocates are here to help you understand your rights as patients, including protecting your rights under Health Information Portability and Accountability Act, compliance with the Americans with Disabilities Act or ensuring you are satisfied with your experience at Denver Health.
Safety and Security
Available 24 hours a day, 7 days a week, our security officers are responsible for providing a safe and secure environment for all patients, visitors and staff. Security can be reached by dialing x67444 from any hospital or clinic telephone or by dialing (303) 436-7444 from outside the system.
Strear Family Garden
This 6,000 square-foot oasis at the hospital's main entrance, adorned with trees, flowers and a fountain, creates a relaxing and inviting area for you and your family.
Pet Therapy
Volunteer Pet Therapy brings smiles and relaxation to patients at Denver Health. Volunteer pet/owner teams visit patients throughout the hospital to lift the spirits and bring companionship and comfort to those who are away from home. For more information, contact Volunteer Services at 303-602-2926.