Here at Denver Health, we want to ensure that you receive excellent care, respect and compassion before, during and after your visit. We offer a wide variety of medical services, from routine physical exams to emergency care.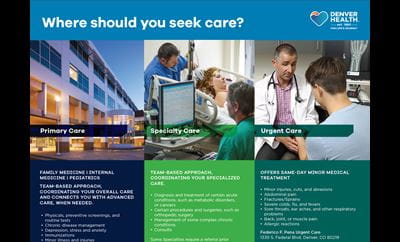 Visit our Appointment Center to get started.
Our Staff
Denver health has over 7,000 employees and to help our patients identify and recognize the role each of them play in bedside care, we have created the Colors of Denver Health.
You can view the entire list of scrub colors that our employees wear here.
Hotels and Lodging for Visitors
Denver Health has contracted rates with six local hotels; these discounted rates are offered to our patients, patients' families, contractors, guests of Denver Health, employees and the families of our employees. In addition to the contracted hotels, Denver Health has eight hotels that offer courtesy discounts for Denver Health. While we do not have a contract in place with them, a Denver Health discounted rate may be available. Rates and discounts are not negotiated by Denver Health, and are subject to availability and change without notice. View a list of participating hotels (Leer en español).