Cómo encontrar a un médico que hable español en Denver Health? (How to Find a Spanish-Speaking Doctor or Caregiver at Denver Health)
June 27, 2019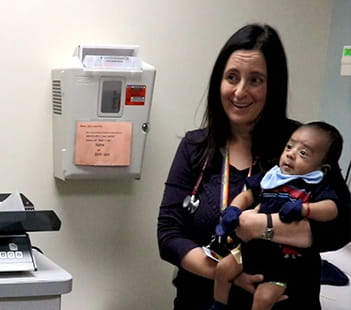 Denver Health se enorgullece en brindar atención médica de la más alta calidad para todos, sin importar quién eres o de dónde vienes. Nuestra misión es cuidar a la gente de Denver y la región de las Montañas Rocosas. Nuestra atención medica se extiende a todos nuestros pacientes, sin importar su estado social o económico, capacidad de pago o el idioma que hablen.

Denver Health reconoce que el inglés no es el idioma materno de muchos de nuestros pacientes. Por eso alentamos y buscamos que nuestros doctores, enfermeras y el resto del personal sean bilingües. Nuestra intención es hacerlos sentir más cómodos y mejorar la comprensión en sus consultas.

Para encontrar un proveedor que hable su idioma:
Visite DenverHealth.org
En la parte izquierda de la pantalla, use el icono circular para traducir la página al idioma de su preferencia.
Haga clic en buscar un proveedor
Seleccione otras opciones de búsqueda
Seleccione su idioma en el menú descendiente.
Haga clic en buscar
A continuación, se le proporcionará una lista de todos los médicos y proveedores que hablan español en Denver Health.

Si usted es un paciente nuevo, puede solicitar una cita con el proveedor de su preferencia en línea o en MyChart. De igual forma puede llamar a nuestra línea de citas al 303-436-4949.

Denver Health ofrece servicios de intérprete gratuitos en más de 200 idiomas sin costo alguno.
_______________________________________________________________
How to Find a Spanish-Speaking Doctor or Caregiver at Denver Health
Denver Health is proud to provide the highest quality health care for all, no matter who you are or where you come from. That mission to care for the people of Denver and the Rocky Mountain Region extends to all of our patients, regardless of social or economic status, or the language that you speak.

Denver Health recognizes that for many of our patients, English is not their first language. That is why we encourage and seek out doctors and caregivers who are bilingual, which can help our patients feel more comfortable and more understood during their visits here.

To find a provider who speaks your language:
Go to DenverHealth.org
Click on "Find a Provider"
Select "Additional Search Options"
Find the "Language" drop down menu and select your language of choice
Click "Search"
You will then be provided with a list of all the doctors and providers who speak your language at Denver Health.

If you are a new patient, you can then request an appointment with the provider of your choice through Open Scheduling on MyChart or by calling our appointment line at 303-436-4949.

Denver Health also provides interpretation services for more than 200 languages free of charge.