How to Send a Message to Your Doctor Using MyChart
February 11, 2020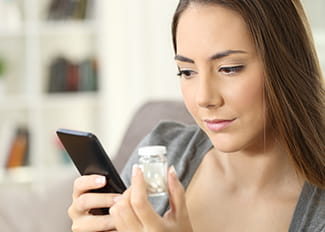 We recently asked some of the team members at Denver Health's nine family health centers to give us a list of the most common reasons patients call the clinic. At the top of that list is wanting to speak with their doctor or provider about a health issue or ask follow-up questions from a recent visit.

In most cases, there is a much simpler and more convenient way to get in touch with your provider – anytime, anywhere. MyChart, a virtual patient portal, makes it easy to manage your health care journey at Denver Health, including giving you direct access to your provider, by sending them a message through the free mobile app. Here's how to do it.
Sign Up For MyChart
There are three ways that you can sign up for MyChart:

Call

303-602-4380

At a Denver Health facility by asking a staff member to help you sign up

To sign up, use your activation code, which can be found on your enrollment letter, bill or the last page of your visit summary (If you do not have an activation code or your code no longer works, go to

mychart.denverhealth.org/mychart/

and click on "Request Online")
Once you are signed up for MyChart, you can download the free app for your mobile device. You can then send and receive messages from your doctor – on the go or from the comfort of your own home
Send a Message to Your Doctor or Provider
Open the MyChart app and select "Messages" to send a message to your doctor or provider
Choose "Medical Advice" to ask your doctor or provider a question or "Customer Service" for questions about billing or your patient experience

Select "messages" while using MyChart.

You can expect a response within two business days for both medical and customer service questions and you can reply with additional questions if needed
Important: If you are experiencing a medical emergency, do not use MyChart, call 911 immediately. For any urgent questions or medical advice, please call the Denver Health

NurseLine

at

303-739-1211
Questions?
If you have questions about using MyChart, call our MyChart Customer Service Center, 8 a.m. – 10 p.m., Monday – Friday, at 303-602-4380 or email MyChart@dhha.org.