Prioritize self-care in August for National Wellness Month
August 17, 2023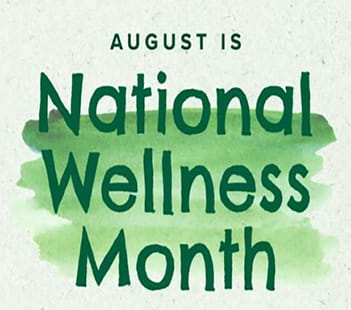 By: Alonso Daboub
We lead busy lives full of important tasks in and out of the workplace, keeping us occupied for what can feel like every second of the day. August is National Wellness Month, a time for people to reflect on their wellness at individual, professional and community levels. Wellness Month encourages everyone to prioritize their health and well-being — not just for August, but for months and years to come.
What is wellness?
Wellness is broadly understood as being in a state of good health, but this can mean different things for everyone. This month, take the time to think of the things that make you feel well, such as physical activity, being outdoors, eating balanced meals and meditation, just to name a few. It's important to set goals around your lifestyle and think of strategies you can use to achieve them. This means thinking about making behavioral changes to sustain these habits of self-care in the long term.
At Denver Health, the goal of our Workplace Well-being programming is to create a culture of health and wellness. Denver Health fosters an environment that is supportive of health and wellness by prioritizing our employees' physical, financial, mental and emotional, and social well-being.
By providing resources in each of these four categories, Denver Health helps employees accomplish their unique wellness goals while creating a culture of wellness to uplift each other and the Denver community we proudly support.
Food drive and Wellness Fair
To further support employee wellness, Denver Health Workplace Well-being, Volunteer Services, RESTORE and WorkLife Partnership are teaming up to host a food drive for Wellness Month. Denver Health employees and community members are encouraged to donate nonperishable food items at Volunteer Services Zone on the first floor of Pavilion C through Aug. 14. Drop boxes are also available in the lobby of the 601 Broadway building. These food items will be distributed to the Denver Health community during the Wellness Fair from 11 a.m.-7 p.m. on Aug. 18 in Volunteer Services Zone.
Tote bags, recipes, community resource information and swag will also be available for all employees.
Meeting you where you are
Recognizing wellness is not one size fits all, Denver Health cares about meeting employees where they are with the resources they need. Denver Health leaders are encouraged to be champions for wellness initiatives and support the well-being of their teams. Denver Health encourages everyone to pause and look inward to identify the activities that enhance their sense of well-being and to take steps to care for themselves and for one another.
For more information and resources to support their wellness journey, employees can visit the internal Workplace Well-being subsite on the Pulse.