Bariatric Patient Support Group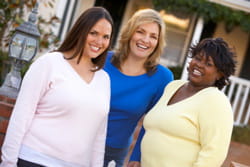 An important part of your success in our weight-loss program is the support you receive. Support throughout your journey will come from your medical team, family/friends, and other bariatric patients.
The Denver Health bariatric support group meets the third Wednesday of every month from 5:30-7 p.m. There will be no meeting for the month of November 2018. Sessions are hosted by one of our registered dietitians who is available to answer questions. Family and friends are encouraged to attend these meetings.
Free Parking is available in the parking garage at 6th and Delaware.
Dates Offered:
Welcome to MyChart!
Manage Your Healthcare From Anywhere, At Any Time
Create a New Account
or use MyChart login: