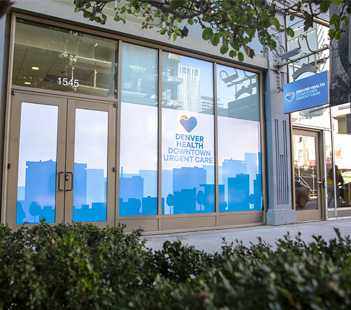 Downtown Urgent Care
Downtown Urgent Care
1545 California St.
Denver, CO 80202
303-602-6500
303-602-6000

Downtown Urgent Care Walk-In Clinic
The Denver Health Downtown Urgent Care is located in the heart of downtown Denver within walking distance from the Colorado Convention Center, 16th Street Mall, Auraria Campus, the Pepsi Center and many popular downtown hotels. Denver Health Downtown Urgent Care serves the million+ business and vacation travelers who visit Denver each year.
Our team treats sick or injured residents and travelers who cannot wait for a primary care appointment. We provide same-day walk-in medical evaluation and care including X-rays, EKGs, bedside ultrasonography and some onsite laboratory testing. We can also help you access specialty services.
Denver Health Downtown Urgent Care is lead by the same clinical leadership team at the Adult Urgent Care Center at Denver Health's main campus. You receive care backed by the medical expertise of Denver Health:
Award-winning, board-certified physicians, physician assistants and nurse practitioners with expertise in emergency and urgent care treatment
Highly-trained nurses who specialize in emergency and urgent care
A committed team of urgent care technicians
Urgent Care Hours
7 a.m.-7 p.m., 7 days a week
Urgent Care Services
We serve injuries including:
Minor fractures and sprains
Severe colds, flu and fevers
Sinus and respiratory infections
Coughs
Asthma
Sore throats and earaches
Minor bicycle, scooter and motor vehicle accidents
Minor cuts and abrasions
Back, joint or muscle pain
Abdominal pain
Skin rashes
Allergic reactions
Altitude sickness
Heat exhaustion
Bites and stings
Gynecologic problems
Urinary symptoms
Denver Health also provides these services at our other locations:
Workers' comp follow-up care
Occupational health
School or sports physicals
Primary care visits
Vaccinations (other than influenza and tetanus)
Title X program
Prescription refills for opioids or narcotics
Clearance to return to work, school or sports
Insurances Accepted
Denver Health Downtown Urgent Care accepts most commercial insurances, Medicare and Medicaid. The Urgent Care also has simple, upfront, cash-pay options.
Denver Health's mission is to care for all. Patients who participate in the Colorado Indigent Care Program (CICP) or the Denver Health Financial Assistance Program (DFAP) may receive their care at the Adult or Pediatric Urgent Care Clinics on Denver Health's main campus at 777 Bannock St., Denver, CO 80204, and at any of our nine Family Health Center locations across the city.
Patients needing emergency medical attention will be transported to the proper facility.
Children's Urgent Care and Emergency Care
Urgent care for kids is provided at the Denver Health Downtown Urgent Care and at our Pediatric Emergency Department and Urgent Care Center, which has a separate entrance and location for specifically treating children.
If you think you are experiencing a health emergency, please call 911 or visit the emergency room immediately. Have questions about if you should go to urgent care or the emergency room? Call our 24-hour, free Nurseline at 303-739-1211.