Former CEO Patricia Gabow Recognized with Prestigious Award
September 24, 2019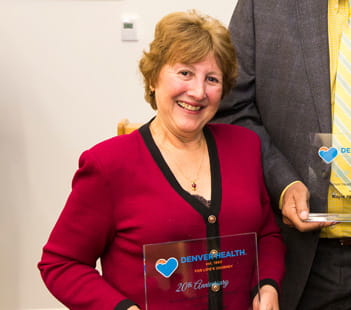 Patricia Gabow, M.D., professor emerita of the University of Colorado School of Medicine and former CEO of Denver Health, has been named the recipient of the
Gustav O. Lienhard Award for Advancement of Health Care
.
The award is presented annually by the
National Academy of Medicine
in honor of Gustav O. Lienhard, chairman of the Robert Wood Johnson Foundation's Board of Trustees from 1971 to 1986.
Gabow is being honored for her nearly 50-year career as a hospital administrator, clinical investigator, professor, board member and advocate for improved health care delivery. For 20 years, Gabow was CEO of Denver Health.
"Dr. Gabow has changed the notion of what a local safety net hospital can be by transforming Denver Health into a highly integrated health care system that serves everyone," said National Academy of Medicine President Victor J. Dzau. "Not only did she make Denver Health a national model of success, she created a culture where all employees embodied the best values of health care – respect, collaboration, and relentless commitment to continuous improvement. She is most deserving of this prestigious award."
The award, which includes a medal and $40,000, will be presented at the National Academy of Medicine's annual meeting in Washington, D.C. on October 21.
About the University of Colorado School of Medicine
Faculty at the
University of Colorado School of Medicine
work to advance science and improve care. These faculty members include physicians, educators and scientists at UCHealth University of Colorado Hospital, Children's Hospital Colorado, Denver Health, National Jewish Health and the Veterans Affairs Eastern Colorado Health Care System. The school is located on the Anschutz Medical Campus, one of four campuses in the University of Colorado system.
About Denver Health
Denver Health is the Rocky Mountain Region's Level I academic trauma center, and the safety-net hospital for the Denver area. The Denver Health system, which integrates acute and emergency care with public and community health, includes the Rocky Mountain Regional Trauma Center, Denver's 911 emergency medical response system, Denver Health Paramedic Division, nine family health centers, 18 school-based health centers, Rocky Mountain Poison and Drug Safety, NurseLine, Denver CARES, Denver Public Health, the Denver Health Foundation and the Rocky Mountain Center for Medical Response to Terrorism, Mass Casualties and Epidemics.