Denver Health Marks Overdose Awareness Day
October 05, 2019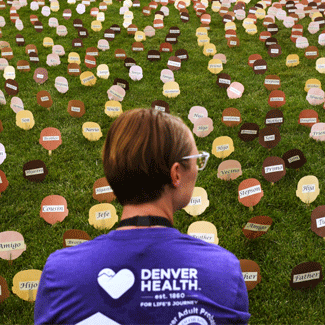 More than 100 staff, supporters and relatives of loved ones lost to addiction marched to Denver Health in August to raise awareness about drug overdose deaths, as originally reported in The Denver Post.
A visual memorial on the lawn outside the Rita Bass Trauma Institute represented the hundreds of lives lost to overdose last year in Colorado.
Britni Edmunds gained recovery through Denver Health's Behavioral Health program. The mother of three recovered from an opioid addiction by learning to believe in herself, addressing her past and trusting in her ability to succeed.
"The compassionate staff at Behavioral Health saved my life by helping me believe my life was worth saving," Edmunds told the crowd of marchers.
At the event, Denver Health announced its new Center for Addiction Medicine, dedicated to fighting the burden of substance misuse in Denver and fill gaps in treatment for people like Edmunds.
"In a time when other places around us are getting rid of behavioral health services, we're investing in ours," said Dr. Christian Thurstone, Director of Service for Behavioral Health.