Denver Health Thanks and Honors All Veterans
November 08, 2019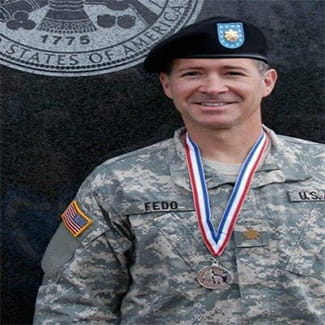 Veterans Day is on Monday, Nov. 11, this year, and Denver Health wants to take a moment to honor our patients and employees who are veterans, as well as all of those who serve and who have served before them.
We take pride in caring for thousands of veteran patients each year. Since 2018, Denver Health has served veterans in more than 5,000 primary care visits, with the majority at the
Wellington E. Webb Center for Primary Care
and the
Federico F. Peña Southwest Family Health Center
.
See the full list of locations that see vets the most often.
We are equally as proud to employ more than 180 veterans since 2018, including Marc Fedo, MBA, BSN, RN, who is pictured with this article. Fedo, the director of nursing in acute care at Denver Health, served in the U.S. Army for 21 years and in the U.S. Navy for eight years.
"I had a wonderful military career," Fedo said. "I am enjoying serving our Denver Health patients and staff."
Happy Veterans Day! Please take time to thank a veteran you know.