We Remember The Time Earth, Wind and Fire Came to Denver Health
January 07, 2020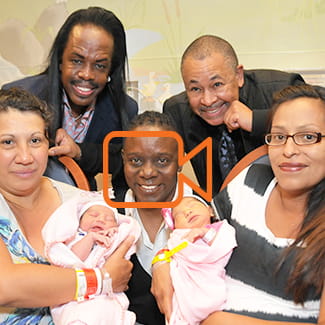 2020 is a big year for Denver Health. We are celebrating 160 years of providing
care for all
in the Denver community. As we reminisce, we are also reflecting on our rich history, including all of the patients, employees and special guests who have come through our doors. All year long, we will be sharing some of the stories that make up 160 years of care in the heart of Denver.
On April 28, 2012, we proudly welcomed one of the most well-known music groups in the world to Denver Health. Earth, Wind and Fire came to our hospital to visit with patients, including a special visit to the
Neonatal Intensive Care Unit
. Band members Verdine White, Ralph Johnson and Philip Bailey smiled and greeted excited patients and staff on that spring day eight years ago.
If it weren't for Denver Health and the NICU, Bailey may not have filled the role of his signature falsetto voice in Earth, Wind and Fire.
Philip Bailey was born at Denver Health on May 8, 1951. He was raised in Denver and graduated from East High School in 1969.
"I was born at this hospital, very premature – severely so – and my mother was saying I was somewhat of a miracle child," Bailey said at the time.
He believes Denver Health is a beautiful facility and noted the high quality of care for every patient that walked through the doors.
"People who are without means, can come to a quality, clean facility and get quality care – that's to be commended," Bailey said. "If it had not been for the care that I got from Denver Health, there may not have been any Earth, Wind and Fire, such as we know it today."
Bailey and his band members created one of the most musically accomplished, critically acclaimed and commercially popular funk bands of the 1970's, winning numerous Grammy and American Music Awards. In 2019, they were recipients of the prestigious
Kennedy Center Honors
. They have also been inducted into the Rock an Roll Hall of Fame and the Vocal Group Hall of Fame. A plaque celebrating Bailey's accomplishments stands in Denver Health's Pavilion A.
Earth, Wind and Fire performed at the
Denver Health Foundation
's NightShine Gala in 2012. This year's gala will feature another major musical act to honor the 160th anniversary this year.
Find tickets and information here
.