How to Help Us Fight COVID-19
March 27, 2020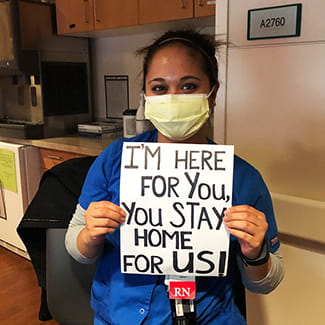 "We are in this together." It's a phrase we've all heard over and over again while talking about the novel coronavirus (COVID-19). State, local and national leaders have sent out messages asking you to stay home unless you absolutely need to go out and if you do go out, make sure that you practice social distancing and keep six feet or more from others.
Stay-At-Home Guidelines
In Colorado, Governor Jared Polis issued a mandatory stay-at-home order for all residents starting on Thursday, March 26. The order lasts through April 11, but can be modified if necessary.
Under the order, everyone must stay at home unless it is to:
Perform tasks critical to their health and safety (includes grocery shopping, picking up medication, exercise and seeking medical care)
Perform tasks critical to the health and safety of their families or other members of the household
Go to or return from "critical work"
At Denver Health, our team – from the nurses, doctors and providers, to the security and janitorial staff – is considered integral to this effort of "critical work." Every day we work to provide the best care to our patients under these trying and difficult circumstances.
How to Help Health Care Workers
Denver Health has a no visitor policy in place not only to protect our staff, but to protect you as well.
So we want you to hear this heartfelt message from just a few of our Denver Health staff to you:
"I'M HERE FOR YOU, YOU STAY HOME FOR US."
Please help us fight COVID-19. Stay home.
To stay up to date on how COVID-19 is affecting Denver Health, visit DenverHealth.org/coronavirus.