Celebrating Mother's Day in the NICU
May 08, 2020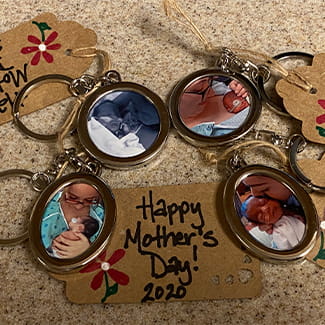 Mother's Day is a special day for any new mom, but it's extra special for the mothers who have just had babies who are in our neonatal intensive care unit (NICU). Caring for these tiny bundles of joy and keeping them healthy is an honor and a passion for our dedicated group of nurses, physicians and providers.
To celebrate Mother's Day in the NICU, every year, Denver Health NICU nurses make these special key chains to give to the new moms, containing a photo of the mom and her baby. The pictures are taken as they are doing skin to skin contact, which promotes bonding between mom and baby.
We celebrate these moms and all mothers on Mother's Day, as well as our caring nurses during this National Nurses Week.
Happy Mother's Day!