Insurance Enrollment Services Office Reopening For Limited Appointments
July 07, 2020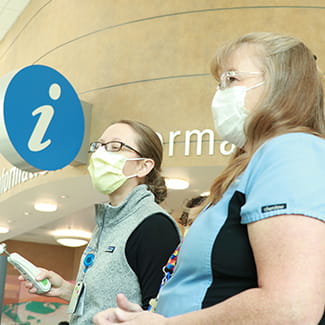 Starting tomorrow, Denver Health's main Enrollment Services office will reopen for walk-in appointments on a limited basis to help you with your health insurance needs.

The office is located in Pavilion I on the Denver Health main campus (655 Bannock St., just north of 6th Avenue). Hours are Monday - Friday from 8 a.m. - 4:30 p.m. This is the first time in-person appointments have been available since March due to the novel coronavirus (COVID-19) pandemic.
Insurance Enrollment Safety During COVID-19
The top priority of enrollment services is the health of our clients and staff, so all enrollment services locations will require clients to get their temperature checked, wear a mask and practice social distancing of at least six feet prior to being seen by enrollment staff.

We will allow a limited capacity of 10 walk-in clients in the front lobby at a time. Only for special circumstances, clients will be allowed to enter with one adult companion or a maximum of two children.
Options for Enrollment Over the Phone or Internet
For those who are not comfortable coming into Enrollment Services in person, we will continue to offer our services over the phone and on the Internet.