Meet the New Chief Financial Officer at Denver Health
December 03, 2020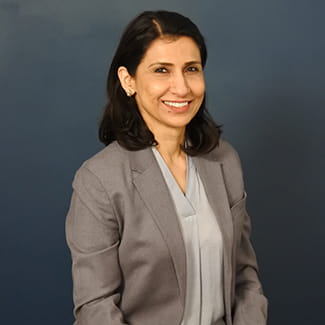 Denver Health is excited to welcome Faraz Khan as our new Chief Financial Officer (CFO).

Khan joined Denver Health earlier this fall and is looking to bring her nearly 30 years of experience working in health care finance to our hospital system.

Prior to joining Denver Health, Khan was chief accounting officer for the University of California, San Francisco Health and had been chief financial officer of a Texas subsidiary of Universal Health Services. She also worked as CFO at Brackenridge Hospital (now called Dell Seton Medical Center at The University of Texas), a safety-net hospital in Austin, Texas.

"I'm drawn to mission-based organizations," Khan said. "It gives me more meaning to the work I do. I like the opportunity to have a broader impact."

That broader impact includes doing what it takes to help the community.

"If I do my job in a way that brings more funding to Denver Health, then we can provide care to more patients in the community."

Her long-term goals include leveraging best practices, pursuing lean work opportunities and securing the financial strength of Denver Health.
Read more about Faraz in the Denver Business Journal (subscription may be required).