Denver Health Resumes Universal Masking at All Locations
August 26, 2021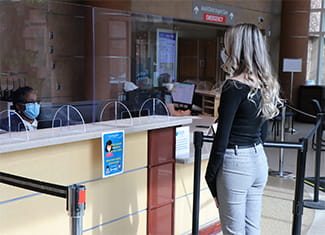 Based on our current hospital and community COVID-19 rates and current CDC guidance, Denver Health will return to universal masking for patients, visitors and staff effective Friday, Aug. 27, 2021. Masking will be required in all hospital, clinical and non-clinical buildings, regardless of individual vaccination status. This applies to both patient and non-patient facing areas and common areas.

The change has been made to protect our patients and staff. We will offer masks to be available for individuals who don't have one.

We recognize that changing guidance can be challenging. We will continually evaluate the situation and update if circumstances change.

Thank you for your patience and understanding as we all work through these challenging times during the ongoing COVID-19 pandemic.
For more information on our COVID-19 response and guidelines, please visit our Coronavirus page. If you would like to schedule a COVID-19 vaccination, visit our Vaccination page.