Denver Health Partners with findhelp Online Resource Site Offering Free or Reduced-Cost Help
October 19, 2022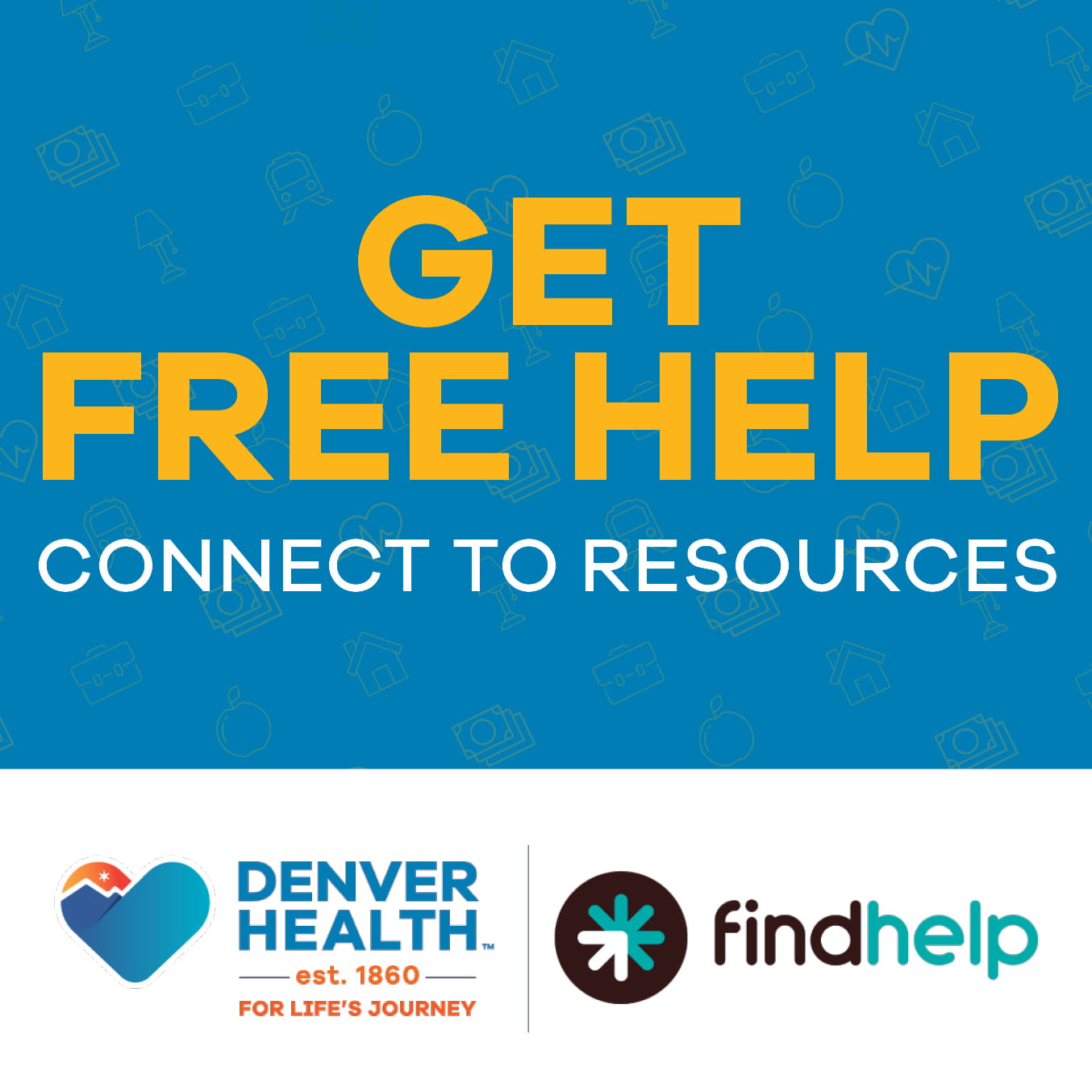 Update: Denver Health is encouraging patients and team members to use our partnership with the free online resource DenverHealth.findhelp.com by distributing new English and Spanish fliers explaining how patients and staff can find free or reduced cost food, housing, jobs, transportation and more. These are just some of the things that make up the social determinants of health. By connecting our community with these basic needs, we hope to positively impact the health of our community as a whole and help fulfill Denver Health's mission and values.
Original article 6/1/2022: Denver Health is proud to announce its partnership with findhelp, a free online community resource to help connect patients, staff members and the community with health- and wellness-related social needs. The Denver Health findhelp site connects to free or reduced cost services in health, transportation, food, housing and more. (You can click here and enter your ZIP code to begin your search.)

Denver Health recognizes that health care does not end with a patient's visit to a provider, clinic or hospital. A lack of access to social determinants of health – such as quality food, housing, jobs and transportation – can be associated with worse health outcomes and are increasingly the focus of health-related social needs interventions.

Patients and staff can use findhelp directly, and care teams at Denver Health will be sharing this resource with select patients who may need additional resources or support. Everyone is encouraged to login into the site before starting a search in order to create a better connection with other provider groups and to track resource searches and notes from those searches.

The search tool is available in more than 100 languages and is quick and easy to use. It provides a list showing the closest services to the user's ZIP code and how to connect. All services are offered at free or reduced cost. The website is free to use and the database includes services available throughout Denver, Colorado and the country, making it easy to share with friends and family members in other locations.

Among the categories of help offered:
Food (including community gardens, help paying for food, government assistance and food delivery)
Housing (including finding housing, help paying for utilities, public housing and temporary shelters)
Goods (including help paying for diapers, baby formula, clothing, blankets, furniture, medical supplies and toys)
Transit (including help with bus passes, paying for a car and paying for gas)
Health care (including help paying for health care, finding medical care, addition/recovery services, dental, eye care, mental health and sexual/reproductive health)
Money (including financial assistance, financial education, tax preparation, how to apply for government benefits, loans and insurance)
Self-care, daycare and animal care (including recreation centers, animal welfare, nursing homes and daycare)
Education (including financial aid, preschool, tutoring)
Finding work (including job placement services, finding clothes and supplies for work, help with resumes and interviewing)
Legal help (including finding a lawyer, help with adoption and citizenship cases, and mediation services)
Growing evidence suggests that if unmet health-related social needs like homelessness, hunger and exposure to violence are addressed, harm to health can be eliminated or reduced. Just as a doctor would screen a patient for physical and behavioral health issues in a clinical setting, care teams can use results from health-related social needs screening tools to come up with a patient's treatment plan and make referrals to community resources. This work directly supports Denver Health's Anchor Institution efforts and the Office of Health Equity.

"We are very excited to offer the Denver Health findhelp community resource platform to our patients, staff, and community," said Jessica Johnson-Simmons, Denver Health manager of integrated care coordination Ambulatory Care Services. "We understand the additional impact the pandemic has placed on our lives, and this social care tool may help people find resources they really need right now."

"This elevates our ability to assist patients and families to a new level and demonstrates Denver Health's continued recognition that health extends far beyond the hospital and exam room and into the community," said Margaret Tomcho, M.D., Denver Health pediatrician and lead physician for Accountable Health Communities at Sam Sandos Westside Family Health Center.

To get help from a Denver Health care navigator with using findhelp, please call 303-602-0252.