Denver Health Earns Top Score in Human Rights Campaign Foundation's 2022 Healthcare Equality Index
July 19, 2022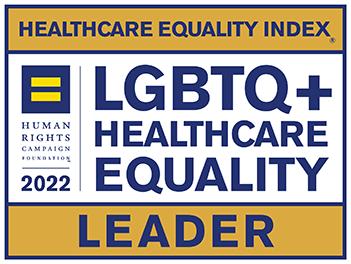 Denver Health earns "LGBTQ+ Healthcare Equality Leader" designation with top score
Denver Health announced today it has received an evaluation of 100 and the designation of "LGBTQ+ Healthcare Equality Leader" in the 2022 Human Rights Campaign Foundation's Healthcare Equality Index (HEI). HEI is the nation's foremost benchmarking survey of healthcare facilities on policies and practices dedicated to the equitable treatment and inclusion of patients, visitors and employees who identify as lesbian, gay, bisexual, transgender and queer plus (LGBTQ+). Denver Health earned the highest scores possible in all four areas measured: non-discrimination and staff training, patient services and support, employee benefits and policies, and patient and community engagement. Denver Health is one of only two hospitals in Colorado to receive the 2022 recognition with our 100-point score on the Healthcare Equality Index (HEI). More than 900 healthcare facilities participated in the 2022 HEI survey, and fewer than 500 earned the designation.
This achievement reflects our equal benefits offered to employees with domestic partners, including health insurance, family and medical leave, and bereavement," stated Tracy Scott, administrative director of LGBTQ+ Health Services at Denver Health. "We provide employee medical coverage that includes medically necessary health services for transgender people, including transition-related treatment. We participate in events that support LGBTQ+ communities, host our own events to promote pride within our workforce, and contribute to LGBTQ+ health-related research."
Over the past year, Denver Health has demonstrated continued commitment to serve every LGBTQ+ patient with open, excellent and affirming care. Some highlights of this commitment include improving the hospital's electronic health records (EHR) system to capture patients' current gender identity when it differs from the sex assigned at birth, diverse family structures such as same-sex parents of pediatric patients, and the option to provide sexual orientation. The updated records system also captures and prominently displays pronouns and affirming names of transgender and nonbinary patients. Additionally, Denver Health has updated our organizational policy allowing patients, visitors and staff to use the restroom that aligns with their gender identity, expanded services for LGBTQ+ youth, including the addition of puberty blocker implants and our LGBTQ+ Employee Council has connected employees and allies with social and professional support, advocacy, resources, and community engagement.
"Denver Health's leader status lets the community know that this is a safe and affirming place to access health care," added Scott. "We look forward to furthering these efforts in the months and years ahead."
More information on the Healthcare Equality Index can be found at Healthcare Equality Index 2022 - Human Rights Campaign (hrc.org).