Denver Health Pavilion G Lab to Move Locations on Campus
January 11, 2023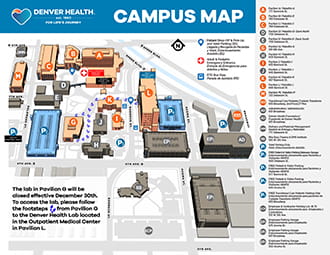 Patients are asked to use the campus lab in Pavilion L (Outpatient Medical Center)
In an effort to better align staffing needs to patient laboratory use, while minimizing any patient care interruptions, Denver Health's Laboratory Services will be moving its operations from Pavilion G as of Jan. 2, 2023, to Pavilion L in the Outpatient Medical Center.
If patients need on-campus, outpatient laboratory services, the Outpatient Medical Center (OMC) laboratory in Pavilion L is located at 660 Bannock St., just a short walk from Pavilion G.
For a list of ALL Denver Health lab service locations, visit our LAB location list here.
Denver Health apologizes for any inconvenience with this location move, and our staff appreciate your understanding.