Celebrating the 49th annual National EMS week
May 16, 2023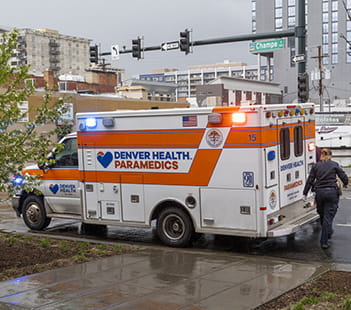 The 49th annual National EMS Week is May 21-27 and is an opportunity to celebrate emergency medical services practitioners and the important work they do in our nation's communities. This year's theme is "EMS: Where Emergency Care Begins."
The National Association of Emergency Medical Technicians (NAEMT) partners with the American College of Emergency Physicians (ACEP) to lead EMS Week activities. NAEMT and ACEP are working to ensure that the important contributions of EMS practitioners in safeguarding the health, safety and well-being of their communities are celebrated and recognized.
The Denver Health Paramedics Division (DHPD) provides 911 Advanced Life Support (ALS) Emergency Medical Services (EMS) and ambulance transportation in the City and County of Denver, Denver International Airport as well as the cities of Glendale, Sheridan, Englewood and the Skyline Fire Protection District.
The Denver Health Paramedic Division consists of:
269 front-line paramedics and emergency medical technicians (EMTs)

41 command staff

Nearly 100 employees in communications, education, vehicle and administration support.
DHPD provides EMT and paramedic training for the next generation of health care providers, as well as continuing education and community responder training through the Rita Bass Trauma and EMS Education Institute.
Annually, Denver Health Paramedics respond to more than 128,000 calls for emergency medical services, support EMS needs at Coors Field and other community events in Denver, and provide medical personnel for the growing Support Team Assisted Response (STAR) program.
Please take a moment to thank a paramedic or EMT this week for all they do in our community!