Comprehensive Care Center at Denver Health offers convenient care for patients with high health needs
June 29, 2023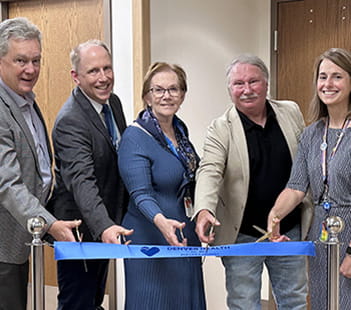 Denver Health held a ribbon-cutting on Wednesday to mark the opening of our Comprehensive Care Center (CCC), which merges several clinical services already offered at Denver Health. Now, patients will find these services under one roof — in the basement of the Webb Center for Primary Care (Pavilion G) — for more convenient access to care.
The CCC will treat patients with high health needs who have been repeatedly hospitalized for heart failure, respiratory infections, asthma, emphysema or skin infections. The medical services merging into the space include Denver Health's intensive outpatient clinic, wound care clinic, a clinic to help patients transition out of the hospital and Denver Health's home monitoring program, which provides patients with medical equipment to monitor their vitals in the comfort of their home.
"It really is one-stop care for our patients who have high health needs," Denver Health CEO Donna Lynne said. "Having that comprehensive range of services in really what they need. And our goal is to get our patients out of the hospital and back at home where they feel most comfortable."
Donna thanked federal lawmakers who helped secure funding for the CCC, including $1 million from the American Rescue Plan Act to enhance, expand and strengthen home and community-based services in Colorado, and the Colorado Health Foundation awarded Denver Health $400,000 for capital to enhance team-based care.
The services offered at the CCC aim to reduce a patient's time in the emergency department and sets up the patient for a successful recovery at home. Last year, these services reduced the length of hospitalization by almost 27% and reduced readmission rates from 15% to about 3%.
Donna also thanked Chief of Ambulatory Care Services Simon Hambidge, MD, PhD, primary care and internal medicine physician Jeremy Long, MD, and Director of Internal Medicine Rebecca Hanratty, MD, all of whom were instrumental in bringing the new center to life.
The center already has provided care to more than 2,100 patients through the home monitoring program, according to Dr. Hambidge. The center has also had more than 3,000 wound care visits. The care provided by the CCC "has had a huge impact on the quality of life" of these patients, Dr. Hambidge said.
"It's really a testament to the work of the entire CCC team who have been willing to innovate and be responsive to the needs of our patients and our communities," Dr. Hanratty added.
Dr. Long said, "Health care is a team sport, and our CCC team embodies that every day and puts the patient first and their care first."
Drs. Long and Hanratty thanked the partners they work with in the hospital, and the Emergency Department in particular, as well as other partner institutions in the City and County of Denver.
A patient at the center, Timothy Ellis, closed out the remarks by sharing his journey over the past four years at Denver Health, saying he'd been "on the doorstep of death" more than once. Ellis said Denver Health and its staff performed surgery that saved one of his legs from being amputated; performed life-saving heart surgery after he developed an aortic aneurism; and treated his severe pneumonia last December, from which he is still coping with the effects of the infection.
"Everybody's been wonderful, and they listen to my needs and my concerns," he said. "I consider everybody that's worked with me and helped me a genuine friend. And I mean that will all my heart."