Mission & Vision
Denver Health will be a national model for research in the safety net hospital system to advance quality care and service excellence.
Our vision is to create an environment that enables inclusive, inventive and high-impact research across Denver Health.

Part of Denver Health's core mission is to engage in research for the benefit of our patients. As a learning health system, Denver Health is dedicated to research that helps meet our patients' health care needs, improves the health of the communities that we serve and teaches the next generation of health care professionals.

The Office of Research at Denver Health offers the opportunity for new and experienced research investigators and research personnel to join together as a community that conducts high-quality, collaborative research. Led by Denver Health's Chief Research Officer, Romana Hasnain-Wynia, PhD, the Office of Research facilitates partnerships both internally at Denver Health and between Denver Health and other organizations; provides research training and consultation, including seminars, workshops and one-on-one sessions; promotes investigator development through competitively-funded pilot study awards; and supports comprehensive research administration at all study stages from the initial idea to project completion. It is composed of an administrative core and two supporting centers: the Sponsored Program and Research Office (SPARO) for research administration and the Center for Health Systems Research (CHSR) for patient-centered outcomes research, health services research and delivery system and implementation science.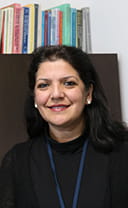 As Chief Research Officer, Dr. Hasnain-Wynia oversees Denver Health's research and sponsored programs, and she represents the importance of research at Denver Health as a member of the executive leadership team. She brings experience in building research programs as a funder, in academic medicine and at a national association.

Prior to joining Denver Health, she served as the director of the Addressing Disparities Program at the Patient Centered Outcomes Research Institute. Before that, she served as the inaugural director and associate professor at the Center for Healthcare Equity at Northwestern University, Feinberg School of Medicine, and she was the vice president of research at the American Hospital Association's Health Research and Educational Trust for 10 years. She has been the principal investigator for a number of national studies focusing on advancing equity in health care, using mixed method approaches and designing pragmatic trials and comparative effectiveness studies in "real world settings."

Dr. Hasnain-Wynia has served on a number of expert panels and committees for organizations including the Joint Commission, Brookings Institution, National Quality Forum, America's Essential Hospitals, Agency for Healthcare Research and Quality and the Institute of Medicine/National Academy of Medicine. She was senior associate editor at the Health Services Research journal for 9 years, and currently serves on the editorial boards for Health Affairs and Health Services Research.