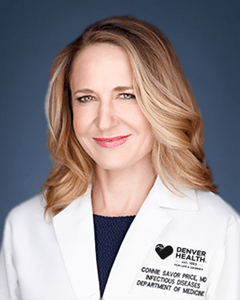 Connie S Price, M.D.
Infectious Disease
660 N. Bannock St., Pavilion L, Floor 2
Denver, CO 80204

Map & Directions
Connie Savor Price, MD is the Chief Medical Officer (CMO) at Denver Health and a Professor of Medicine in the Division of Infectious Diseases at the University of Colorado School of Medicine. Prior to becoming the CMO, she served as the Chief of Infectious Diseases and the Medical Director of Infection Control and Prevention at Denver Health for 13 years. Dr. Price is board-certified in internal medicine, infectious diseases, and medical microbiology. Her research and clinical interest focuses in healthcare epidemiology and methods to prevent and rapidly detect emerging and antimicrobial resistant infections. Dr. Price has a track record of successful federal funding as a Principal Investigator from the National Institutes of Health, the Department of Defense, and the Agency for Healthcare Research and Quality. She has published >75 manuscripts and delivered >175 lectures on the prevention of healthcare associated infectious diseases and related topics. She is active in the Infectious Diseases Society of America, served in an elected position on the Board of Directors of the Society of Healthcare Epidemiology of America, and as past chair of the American Society for Microbioloty section on Healthcare Epidemiology. Dr. Price was the physician representative on the inaugural Colorado Healthcare Associated Infections advisory committee for public reporting of healthcare associated infections for Colorado. She has recognized expertise in outbreak management and has served as a consultant to public health authorities around the world on control of emerging infections, specifically MERS and SARS, as well as Ebola preparedness.
Languages
Interpretation service provided for all languages
English
Certifications
American Board of Internal Medicine - Infectious Disease
American Board of Pathology - Medical Microbiology
Education
1995, Northwestern University Medical School, Medical Education
Internships
1996, McGaw Medical Center of Northwestern University
Residencies
1998, McGaw Medical Center of Northwestern University
Fellowships
2001, McGaw Medical Center of Northwestern University
2000, National Institute of Health
Publications
https://www.ncbi.nlm.nih.gov/pubmed/?term=price+connie