Mom Grateful to Denver Health for Her Two Babies
November 26, 2019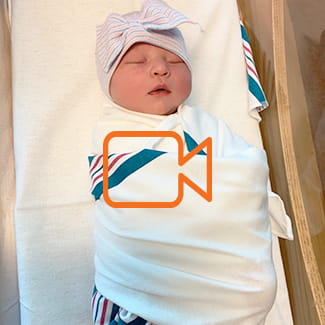 With Thanksgiving just two days away, a lot of us are thinking about what we are most thankful for. Marissa Valadez wrote a letter of thanks to Denver Health after having both of her babies here.
"The birth of your child is such a special time, and I'm so incredibly grateful for the role Denver Health played in bringing my children into the world," Valadez said. "I had a very positive experience with everyone I encountered in my time there, from the nurses and the midwives to the front desk staff and the people who valeted my car. Everyone is friendly, and you can just tell that they care about you."
Valadez gave birth to her son Hendrix at Denver Health in 2016. Her daughter Gisela "Gigi" was also born at Denver Health earlier this year, something she said was important to her after getting care that was not up to her standards at another area hospital. She came back to Denver Health after changing her insurance. Valadez said Gigi's birth "went off without a hitch." She made a video to thank everyone involved with her care during both of her stays here.
She said, "the nurses and midwives were very supportive and experienced. I appreciated their dedication to my birth plan. They are there to help you through one of the most challenging things you'll experience as a woman."
Denver Health's
certified nurse midwives
can help mothers choose the individual birthing plan that is right for them.
"My kids are healthy, I'm healthy, and it's all thanks to Denver Health," Valadez exclaimed.