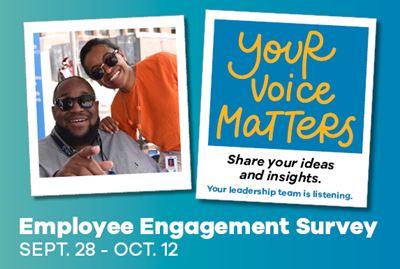 Denver Health's 2022 Employee Engagement Survey will open September 28 – October 12. The survey is your opportunity to let leaders know what's working well and what needs improvement. Your voice matters, and the feedback you share leads to real changes. In advance of the survey, a series of stories in the 411 is highlighting Denver Health's progress and achievements since the previous survey in 2020. Denver Health leaders want you to know that your voice matters and the feedback you provide leads to real changes. This week's story looks at efforts to address staffing challenges.
Over the past couple of years, you've told us you want to see improvements in staffing levels and how Denver Health fills open positions, particularly those in critical roles.
Like health care institutions around the country, Denver Health has faced staffing challenges since the pandemic began in March of 2020. The economic trend known as the Great Resignation has magnified the issue. Additionally, more than two years of dealing with COVID have led to exhaustion and burnout.
Denver Health's current financial situation has amplified our staffing challenges. Leaders are focused on finding the balance between filling the most critical roles and being conscientious of our bottom line. Nurses make up the largest percentage of Denver Health's staff. We continue to look for ways to reduce our reliance on traveler nurse labor. We took a major first step to achieve that this month when we reduced bed capacity on 6A. We also remain committed to retaining our dedicated staff, growing our hiring pool from internal candidates and bringing in new hires. There are several ways we are working to accomplish these goals.
Recruitment
Denver Health's clinical leaders are working in partnership with our Human Resources and Marketing teams to hire and recruit for key roles. More than a year into nationwide staffing struggles, the efforts are seeing positive movement. Our hiring hit a record high last month, with 262 new employees joining Denver Health. To put this in perspective, Denver Health hired 99 more employees in July of this year than in the same month last year. While we continue working to fill open positions, the July numbers are a good sign.
We're also growing our pipeline programs to bring on new staff and offering referral bonuses that pay employees cash for helping us fill open positions. Since January, Denver Health has paid 321 employee referral bonuses.
Staff Retention
Denver Health is working hard to retain our dedicated staff. Denver Health invested $16 million in our employees last December by providing 2022 annual market adjustments early. We've added a variety of clinical staffing incentives since 2020. We also launched our Workforce Development Center in April, where employees can access career development opportunities and wrap-around support services, such as financial coaching. We continue to provide a valuable suite of employee benefits, including health insurance, retirement plans, paid time off and more.
Denver Health has developed multiple incentives to support current staff who want to pick up extra shifts to earn more. Our Critical Staffing Incentives (CSI) and Denver Health Voluntary Overtime Agreements (DHVOA) programs pay higher rates for additional (and optional) shifts.
Staff Support
Denver Health recognizes that the emotional well-being of our staff is critical. Many of you still feel impacts from the pandemic and some are affected by other life challenges outside of work. If you're feeling overwhelmed, we want you to know you're not alone. You can find peer support, 24/7, through RISE (Resilience in Stressful Events). We brought the program into Denver Health to support our employees prior to COVID, and the program has proven to be a vital resource ever since.
Our employees make our organization the special place that it is. Through our culture of recognition, Denver Health celebrates our workforce with Days of Celebration, Values Awards, Nurses Week, Medical Assistants Week, Doctors' Day, Environmental Services (EVS) Week, the Holiday Buffet and other activities. We also reward employees for their exceptional efforts with our Compassionate Care, Heroes of Heart, and DAISY and Sunshine awards. In addition, we encourage leaders in every department and clinic to recognize team members often through rounding, Twinkle tokens and hand-written notes.
Training and Education
Denver Health is focused on training our current employees for advancement to critical roles and bringing in new talent to our organization. The Nursing Department has several programs showing success.
While not new to Denver Health, our Nurse Residency Program continues to support our newly licensed registered nurses (RNs) transitioning into practice throughout their first year. The program is in its 11th year with more than 700 RNs participating through three cohorts per year. It has a 91.8% overall retention rate in the first year. We are regularly updating the program based on participant feedback to better support our new RNs. It is also being recognized for its excellence. As you likely saw in the August 25 edition of the 411, we just learned that the program obtained accreditation with distinction. Denver Health Nurse Residency Program at Denver Health is recognized by the ANCC Practice Transition Accreditation Program® (PTAP) as an Industry-Recognized Apprenticeship Program (IRAP).
Denver Health also launched ED RN Academy this year. The new program is designed to expand critical thinking skills, and train new graduates or RNs from other specialties into Emergency Department (ED) nursing. We are partnering with the Emergency Nurses Association (ENA), a national professional organization, for this program. We currently have six nurses enrolled in the program, which will begin September 12, with plans to replicate the course at least four more times in 2023. Moving forward, it will become a core course in the Emergency Department for onboarding new nurses.
In our Perioperative Department, we have developed a Periop 101 course, where leaders and staff support the growth of both new and experienced nurses to become competent in the Operating Room (OR), a role with a unique skill set. Denver Health's Periop 101 program typically runs twice a year with between four and six candidates in each session. Each program runs six months, partners with our New Grad Residency and prioritizes internal candidates. So far in 2022, Denver Health has hired five Periop 101 nurses.
Addressing our staffing needs will continue to be a key focus area for some time to come. Our leaders encourage you to share your thoughts about staffing and other topics on the organization through the upcoming Employee and Provider Engagement Survey. You'll be seeing more information about how to take the survey in the coming weeks.