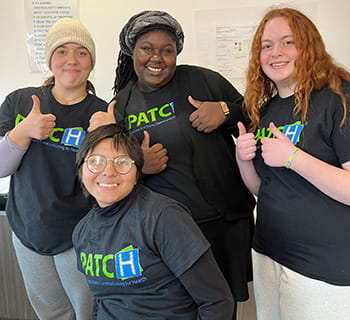 The Denver Health Pediatrics at Denver Public Schools: School Based Health program recently implemented a youth-led program called Providers and Teens Communicating for Health (PATCH). PATCH is an evidence-based program that began in Wisconsin 10 years ago. Its mission and vision is to create a supportive environment that improve the health and well-being of adolescents through youth-adult partnerships. PATCH believes in empowering, educating and engaging youth, as they are experts in their own health. Piloting the first Denver PATCH site has been such a great opportunity, and we can't wait to see the program grow.
PATCH has two main scripted workshops: PATCH for Providers and PATCH Peer-Peer. The PATCH for Providers workshop gives teen educators (youth) the opportunity to share with health professional about how to better engage with young people during health care visits to improve the relationships between young people and healthcare professionals. The PATCH Peer-Peer workshop is an opportunity for teen educators to teach their peers about adolescent health rights and empower one another to advocate for their health rights. It's an awesome opportunity for young people to take charge of their own health and enhance patient-provider relationships.
Teen educators recently led a provider workshop training for the Westside Pediatrics Team. Westside staff members shared how much they appreciated the workshop. Words like "interesting," "important," "useful," "we need this" were used during the workshop and outside of it. PATCH is a beneficial program that is in the best interest of health professionals and their young patients.
Let's work together to provide quality youth health care.
For more information or to sign up for a workshop, email Tara.Melinkovich@dhha.org.