Volunteer Gives Back After Brush With Death
April 15, 2022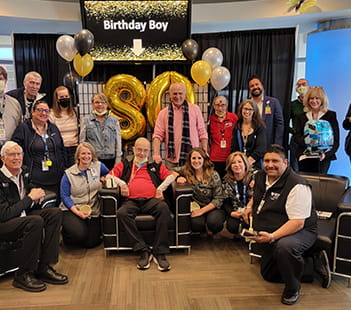 Of the around 200 treasured volunteers every year at Denver Health, few have had as great an impact on our patients and staff as John Stahl. The 80-year-old retiree celebrated a momentous birthday at a gathering in Pavilion C organized by colleagues last month. Stahl has clocked 1,400 hours delivering books to rooms, serving coffee in waiting areas, helping people find their way around the hospital and greeting patients in the
Emergency Department
.
Stahl began volunteering for Denver Health in 2015 after his own
brush with death
when his heart suddenly stopped beating. He credits
Denver Health Paramedics
and our
Cardiac Catheterization Laboratory (Cath Lab)
staff for saving his life. "I've been in the Intensive Care Unit (ICU) here many times, and I know what it's like to lie in those beds. Now, I have the opportunity to give back," Stahl said.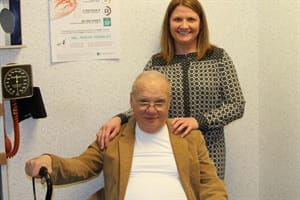 Lending a hand two to three days a week for the past seven years, Stahl has developed close bonds with employees in the
Medical Intensive Care Unit (MICU)
, the Information Desk staff, nurses, administrators and many others. He brought joy to patients and staff alike when he dressed up as an elf to brighten the spirits of kids in the hospital on Christmas. He also provides feedback to guide hospital decisions as a member of the Patient Family Advisory Council.
"John and all of our volunteers are so important to the human experience at Denver Health," said Liz Matthews, Denver Health volunteer coordinator. "Many of our patients don't have the resources for books, and some are here alone when loved ones can't make it in to visit. Our volunteers are able to devote time that our employees don't always have – to sit with patients and provide a helping hand. That can really make a difference in their journey towards healing."
On April 17–23, 2022, we invite you to celebrate National Healthcare Volunteer Appreciation Week with us by thanking all Denver Health volunteers and those who maintain our volunteer programs, as well as volunteer leaders on boards and committees.
If you, or someone you know, are interested in volunteer opportunities at Denver Health, you can learn more here. While the need is greatest Monday through Friday from 8 a.m. – 12 p.m. and 12 – 4 p.m., volunteer shifts are available seven days a week. The program requires a four-hour-per-week commitment, and volunteers start out as pathfinders. In this role, volunteers provide a variety of assistance to patients and visitors at the Pavilion A and Outpatient Medical Center entrances. After 32 hours in the initial role, volunteers can be matched with specific clinics or departments according to desired experience and shift availability. Apply online here.