Domestic Violence
January 01, 2017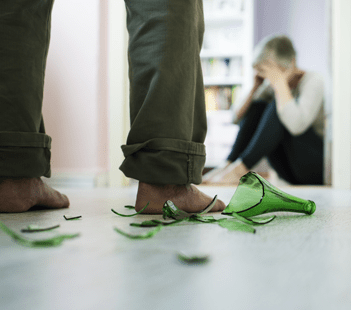 What is Domestic Violence?
Domestic violence is abuse by a spouse or partner. It can be physical or emotional. Things like hitting, constant put downs, withholding money, threats, bullying, isolation, sexual abuse or using children in harmful ways can all be acts of abuse. An abusive person uses these actions to maintain fear, intimidate and maintain power over the partner. Every 15 seconds the crime of battering occurs!
Facts About Abuse
Violence is one partner beating, bullying, using threats of fear over the other partner. It is not an equal relationship. It is one person dominating and controlling another.
Stress does not cause violence. Abusers do not attack co-workers or bosses. Using alcohol does not cause violence. Alcohol can be used to excuse angry abusive behavior.
About half of the couples in this country have abuse at some time. Abusers come from all social and economic backgrounds.
All children suffer from watching a parent or sibling being abused.
Very often domestic violence starts during pregnancy. The violence gets worse as the pregnancy continues.
Battered women are more likely to suffer miscarriages and to give birth to babies with low birth weights.
Domestic Violence is the leading cause of injury to women between the ages of 15 and 44 in the United States.
No One Deserves to be Abused
Once abuse starts, outside help is needed
Having the police involved will not end the abuse
Abusive relationships are often confusing and overwhelming
Safety is the key whenever abuse happens
The abuser may apologize, promise to change and the abuse will never happen again
There are times when abuse stops, but the cycle of abuse repeats
Once the abuse starts it will happen more often and will get worse
The risk of more harm or even death are likely if the abuse continues
Counseling for both the victim and abuser is needed
The First Steps to Stopping Abuse is Getting Away from the Abuser
It is best not to return to an abusive home
If you return, the children must be kept safe
As the caretaker of children, it is your responsibility to ensure their safety
Children are affected by violence and abuse in the home. Children can be hurt by accident when the abuser is violent
The Denver Department of Human Services will be called if children are not being protected from an abuser in the home
It is Important for You and the Children to be in a Safe Place
If the abuser has been arrested and taken into police custody, it may be safe to return home
If a judge orders a bond be set and bail is posted the abuser will be released
It may be safer to go to family or friends if you can be protected should the abuser come looking for you
A safe house is a good place for you and your children. You will be safe and have others around you who have gone through abuse. Staff will be able to offer you support and guidance. The safe house will give you a place to think clearly and begin to make future plans.