Helmet Fit and Safety Tips
January 01, 2017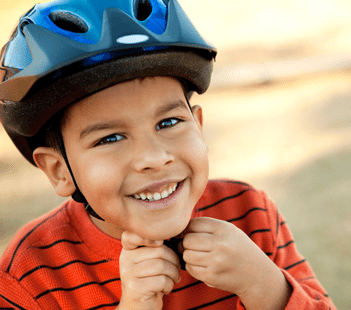 Wear A Helmet!
The best way to reduce injury from bicycle crashes and outdoor recreation is by wearing a helmet.
Children should always wear a helmet for all wheeled sports activities. A properly-fitted bike helmet is just as effective when riding a scooter, roller skating or inline skating. However, when skateboarding and long boarding, make sure your child wears a skateboarding helmet.
Make it a Rule: Every time you and your child ride, wear a helmet. If your child is reluctant to wear a helmet, try letting him or her choose his or her own.
Helmet Fit is Important
Make sure the helmet fits and your child knows how to put it on correctly. A helmet should sit on top of the head in a level position, and should not rock forward, backward or side to side. The helmet straps must always be buckled but not too tightly.
Test your Helmet Fit: Eyes, Ears and Mouth
EYES Check: Position the helmet on your head. Look up and you should see the bottom rim of the helmet. The rim should be one to two finger-widths above the eyebrows
EARS Check: Make sure the straps of the helmet form a "V" under your ears when buckled. The strap should be snug but comfortable
MOUTH Check: Open your mouth as wide as you can. Do you feel the helmet hug your head? If not, tighten those straps and make sure the buckle is flat against your skin
Welcome to MyChart!
Manage Your Healthcare From Anywhere, At Any Time
Create a New Account
or use MyChart login: