Window Falls Prevention & Safety Tips
January 01, 2017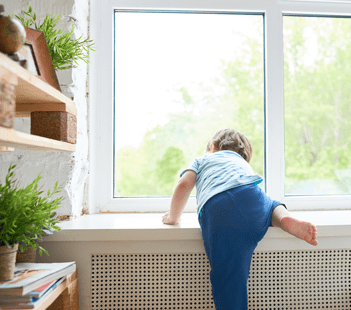 Each year we hear the unfortunate news of a toddler being injured or killed after falling from a window. A study cited by Safe Kids Worldwide says children under the age of five rack up 3,300 injuries from window falls each year in the United States.
Window falls occur most often during the spring and summer months when windows are open. Most window falls are from first, second and third story windows and happen to children under five and under.
Window falls are preventable with a few simple actions.
Screens are meant to keep bugs outside, not children inside. Children should not sit near an open window or press against the window screen, as the weight of their bodies can easily pop out the screen from the frame of the window.
Falls can be prevented by using window guards/locks that keep windows from opening too far.
Move furniture such as cribs, desks, beds and tables away from windows so children aren't tempted to climb on them to access an open window.
Plant bushes and flower beds under windows to soften landing surfaces.
Discourage play on fire escapes, balconies or porches that do not have adequate fencing.
Keep all window cords out of the reach of children. Make sure that tasseled pull cords are short and that continuous-loop cords are permanently anchored to the floor or wall.