Then & Now: Ambulances
November 01, 2017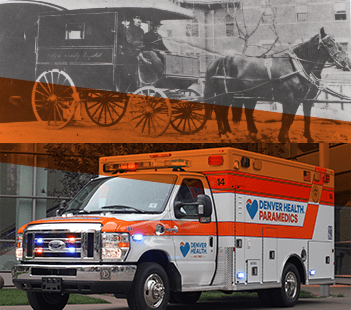 For more than 150 years, Denver Health has served the Denver metro community – with integrated services and a team-based approach to your health care needs. Learn more about Denver Health's history – and see how far we've come.
Then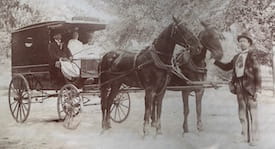 In the 1890s, Denver Health's first ambulance arrived on the scene. It consisted of a simple carriage drawn by two sturdy horses. The horse ambulance was housed in a newly created building with a distinctive smokestack at its center.
A series of bells were used to alert the medical staff to the type of patient the ambulance was delivering. The bell clanged once for sick patients, twice for emergency victims and three times for suicides and poisonings. Although the staff worked feverishly to save the patients during the turn of the century, medical knowledge was limited, and life-saving drugs and equipment were minimal. Historical accounts show that a majority of the patients died.
One such patient was Frank Schmelzer, a member of the executive board of the Western Federation of Miners, on his way to Boise to testify in the trial of labor leader Bill Haywood. When Schmelzer realized he had boarded the wrong train at Denver's Union Station, decided to jump off, telling the conductor to throw down his suitcase after him. However, when he landed, he rolled beneath the train – his right foot and left hand severed and other parts of his body crushed. A police surgeon realized the man's only hope for survival was a "speedy removal to the county hospital" and the ambulance driver whipped the horses into a gallop. But two hours after his arrival, he was dead.
Now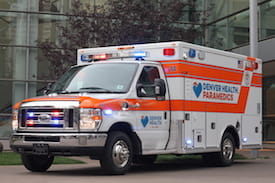 The Denver Health Paramedics Division has upgraded beyond its horse-and-buggy days. Today, our Paramedics boast more than 300 employees and a 34-ambulance fleet, with nearly 30 in operation daily. These medical professionals respond to nearly 300 calls a day. No longer relying on horses, Denver Health Paramedics' response times are some of the fastest in the city. As the Denver metro area has expanded, the number of ambulances and upgraded technology has been critical in the division's growth over the years.
The ambulances have transitioned through the years from carriages-to sleek Model T-like vehicles, to vans and Cadillacs, and finally to the Ford Chassis in 2017. Instead of bells, Denver Health Paramedics now use a Ten Code paging system that translates into words. When a 911 call first goes into a call center, an Echo Call Taker alerts a paramedic dispatcher, who finds a best access ambulance through a computer aided dispatch (CAD) system. Next, the dispatcher alerts paramedics with an ambulance in service near that area by both radio and paging a message to cellphone of the situation.
Chief Paramedic Gary Bryskiewicz said if paramedics received a call today similar to the 1861 patient-on-train-tracks situation at Union Station, they could have that patient to Denver Health and in the care of the trauma team within 17 minutes. That's why the dynamically dispersed system works best. The Paramedics don't wait for calls in garages, stations or quarters. They're always out and driving around based off data collected in their CAD from frequent call volume times and locations – so they can be ready for any emergency that's called in. Once a paramedic drives an ambulance out the Acoma garage, the ambulance is in service for the day.