Take Note of this Unique Therapy at Denver Health
January 23, 2019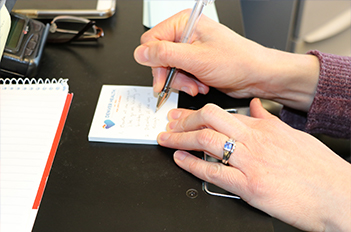 The Post-it Note, or sticky note. It's small, simple, circumspect and found by the multi-pack in every office supply closet in the country. These notes are foot soldiers in the daily battle for memory of phone numbers, deadlines and coworkers' birthdays.
Also? They're my secret weapon.
As an
outpatient psychologist
, I am tasked with helping my patients make progress on their stated therapy goals. These goals range from the vague ("I just want to feel better") to the extremely detailed ("I want to be able to get to school on time at least four days out of five without my anxiety getting in the way"). Sometimes patients come in not quite knowing yet what their goals are. Others have tried therapy before and found it not helpful and are somewhat wary of the whole process. Many patients come in with mental trauma in their histories that continues to affect their lives in numerous ways.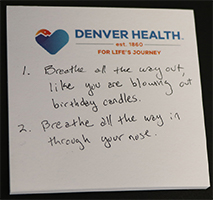 In order to help patients with their goals, I need to forge a connection with them. Without connection, without the feeling that we are partners working toward the common cause of their progress, nothing much else is going to happen.
Therapists have many ways of helping to create connections with the people they work with. One of mine is using sticky notes.
Sticky notes are a way for me to give my patients something tangible to take with them in the beginning of treatment, when they are wondering if therapy is going to be any use to them. They are a way to give something of myself – concretely, succinctly, in my messy handwriting. When I explain how to do breathing and other exercises to help with anxiety, I write these down on a sticky note. When we make a list of things the patient can say to themselves to help them ride out a difficult situation, we write them together on a sticky note. When I offer a book recommendation, I scribble it down on a – well, you get the idea.
Sticky notes are a great size and shape to stick in a wallet, or on the back of a cell phone. Some patients have told me they stick them on the dashboard of their car, or on their bathroom mirror. One patient, whom I had been working with for quite a while, once brought in a picture of their refrigerator covered in sticky notes from past sessions. A couple people have spontaneously told me they still have all the sticky notes I had ever given them.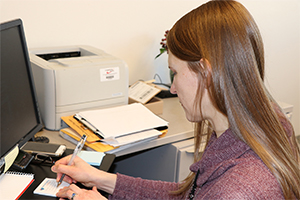 Sometimes a patient will leave behind a note I had given them in the session. This is good information for me, too; something might not be working so well in our therapy relationship, and I want to figure out what it is – making a mental note to ask them next time how they feel things are going in therapy.
As a therapeutic tool, sticky notes are, in my view, worth their weight in gold. In fact, I use them myself – I have one taped above my desk at work that helps keep me going on hard days. It is a quote from the psychiatrist Irvin Yalom, and it reads, "It's the relationship that heals."