Five Things You May Not Be Doing in MyChart
July 24, 2019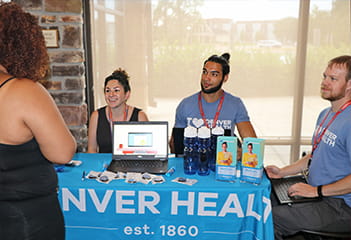 This is MyChart Week at Denver Health, and all week long, we are helping our patients (with free giveaways) sign up for the free, easy-to-use mobile and desktop app. MyChart helps you take charge of your own health care by letting you schedule and change a doctor's appointment, talk to your doctor and refill your prescriptions, all from your phone, tablet or computer – anytime, anywhere. Here are five other MyChart features within the app that you may not be doing – all of them together can make your health care journey at Denver Health a lot easier!
MyChart Features
Send a question about a non-urgent medical matter directly to your doctor.
Stop searching the internet for answers to your medical questions! The best way to find out what's going on with your health is to ask your primary care doctor. MyChart makes it easy to do just that. In the MyChart app, just open "Messages" and then go to "Send a Message" to talk directly with your doctor.
Find out what a procedure or surgery costs.
If you are wondering what a colonoscopy or knee surgery or any other procedure/surgery would cost, you can get an estimate and learn what is covered by your insurance. Just go to "Estimates" and enter the name of the procedure or surgery and your insurance information, and a cost range will be provided.
Pay your bill.
Save time by paying your bill through MyChart. When you go to the "Billing" section, you can see what you owe, pay for your care through the app or even sign up for paperless billing if you choose. There is also an option to call Denver Health's billing department if you have any questions about your bill.
Review lab results and a summary of your doctor's visit.
After your doctor's visit, your doctor will send you a message with a summary, including any important information about what was discussed during the visit. You can also go to "Test Results" to see the outcome of any lab work you had done during your last doctor's visit, see comments from your doctor and ask any questions about the results.
Share your health record with someone you trust.
You can grant temporary or permanent proxy access to your health records to a family member or trusted caregiver so that they can communicate with your care team when you cannot. For temporary, one-time access, MyChart will send you a code to share with that person to grant secure, one-time, limited access to the app. Permanent proxy access is available to parents of minors or caregivers of adults; go to the MyChart webpage to fill out a form for permanent proxy access.
All this week, Denver Health staff will be on site at our nine Family Health Centers and at clinics at the main hospital to sign patients up and answer questions about MyChart.
To find out how to sign up, talk to your caregiver or visit MyChart.DenverHealth.org to download the MyChart app.