Benefits of Breastfeeding for Mom and Baby
August 01, 2019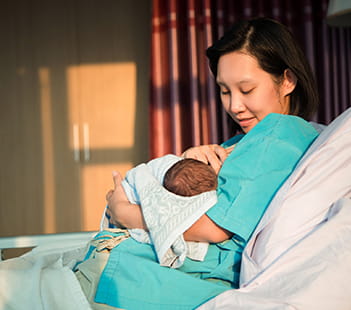 August is National Breastfeeding Month
Did you know that each August, the world celebrates World Breastfeeding Week from August 1-7, and that August is National Breastfeeding Month in the United States? All month long, attention is drawn to the importance of breastfeeding and the continued need to protect, promote and support breastfeeding.

So why does breastfeeding need a month-long celebration? Turns out, breastfeeding is the foundation for lifelong health for babies and women. Enabling women to breastfeed for as long as they desire would result in less illness and disease, as breastfeeding plays a key protective role for infant and maternal health.
Breastfeeding Benefits for Baby
According to the journal Pediatrics, for infants, breastfeeding significantly reduces the risks of:
Sudden Infant Death Syndrome (SIDS)
Respiratory tract and ear infections
Leukemia and childhood cancers
Obesity
Asthma, allergies and eczema
Breastfeeding Benefits for Mom
It's not just babies who benefit from breastfeeding. When a mother breastfeeds, she significantly reduces her risk of developing:
Breast and ovarian cancer
Heart disease
Rheumatoid arthritis
Diabetes
Breastfeeding Support and Lactation Consultants
Unfortunately, many women do not reach their breastfeeding goals due to a lack of support. Women and babies face challenges both in the early days while they learn how to breastfeed, and then continue to face challenges including having to return to work very shortly after their baby is born, having non-supportive communities, and also facing powerful marketing messages from formula companies that undermine their confidence in breastfeeding.
Denver Health supports breastfeeding and has international board-certified lactation consultants and certified lactation counselors that are committed to helping a mother achieve the best breastfeeding experience for her and her baby. We are proud to offer several breastfeeding classes for both expecting and new mothers.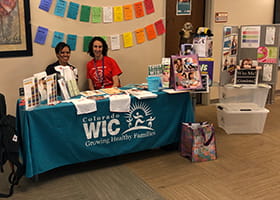 This year's theme for World Breastfeeding Week is, "Empower Parents, Enable Breastfeeding." No one breastfeeds alone, and we can all play supportive roles in supporting breastfeeding.
Amy Kaplan is part of Denver Health's Women, Infants and Children (WIC) Program. She is a registered dietitian and an internationally board certified lactation consultant. Denver Health's WIC will be hosting breastfeeding outreach tables outside of the Women's Care Clinic in Pavilion C the first week of August. Stop by to learn more about breastfeeding, pick up fun day-of giveaways, and enter into a raffle to win baby carriers, diapers, stuffed animals and nursing scarves.