Malnutrition: Symptoms, Causes and Treatment
September 25, 2019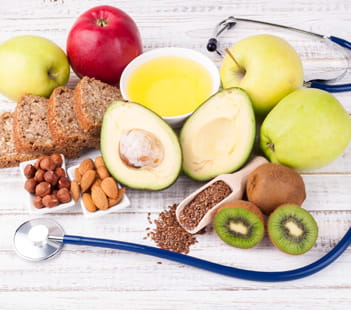 Sept. 23-27 is Malnutrition Awareness Week. In 2018, Denver Health's registered dietitians identified over 524 hospitalized patients with malnutrition.
What is malnutrition?
The World Health Organization defines malnutrition as "deficiencies, excesses, or imbalances in a person's intake of energy and/or nutrients." In basic terms, the state of malnutrition is the lack of nutrients available for use in the body.
Malnutrition can affect people of all ages, weights, races and genders. For example, infants who are not receiving enough nutrition can:
become underweight
have stunted growth
experience delays in developmental milestones
The National Health and Nutrition Examination Survey III reports that postmenopausal women with a BMI greater than 25 were more likely to be low in micronutrient levels compared with adults with a BMI between 18.5 and 24.9.
Causes of Malnutrition
Malnutrition is most noticeable when someone loses weight as a result of not eating enough food. This lack of food intake may result from:
a lack of appetite
limited access to food
an unbalanced diet
Also, certain medical conditions like HIV/AIDS, cancer or burns increase a person's energy expenditure which could result in malnutrition. In addition, chronic diarrhea, pancreatic insufficiency, uncontrolled diabetes and many other medical conditions can affect how food is absorbed in your intestines, leading to malnutrition.
The Academy of Nutrition and Dietetics reports that up to 50 percent of adults are at risk for malnutrition or are malnourished at the time of admission. Also, up to 31 percent of malnourished patients and 38 percent of well-nourished patients experience nutritional decline during their hospital stays. It's important to note that malnourished adults are five times more likely to die during a hospitalization and 54 percent more likely to be readmitted than their well-nourished counterparts. This is because malnutrition can delay healing, prolong a hospital stay and decrease quality of life.

Denver Health registered dietitians are addressing inpatient malnutrition through early recognition and intervention. They have been trained in nutrition-focused physical assessments, interviewing patients, assessing nutrient intake, identifying the root cause of nutrient imbalance and evaluating weight changes. During your inpatient stay, a registered dietitian will work closely with you along with your nurse, doctor and case managers to help prevent further malnutrition.
Malnutrition Treatment
The role of an inpatient registered dietitian is to:
Ensure a patient is on an appropriate diet
Make sure a patient is able to order meals on their own or to recommend meal ordering assistance if needed
Complete diet education when appropriate
Add nutrient-dense snacks or oral nutrition supplements between meals if needed
Guide supplemental enteral or parenteral nutrition if appropriate
Recommend additional micronutrient testing as needed to rule out deficiencies common in malnourished patients
Malnutrition Symptoms and Signs
If you think you or someone may be at risk for malnutrition, don't hesitate to speak to your medical provider about your nutritional status. Some things to ask yourself include:
Have you unintentionally lost weight?
Are you experiencing a loss of appetite?
Are you not able to eat or eating smaller amounts than usual?
Do you feel weak or tired?
Do you have swelling or fluid accumulation that is not related to a current medical diagnosis?
By being proactive and working together, we can reduce the incidence of malnutrition.