How Do I Know if I Have the Flu vs. A Cold?
November 18, 2019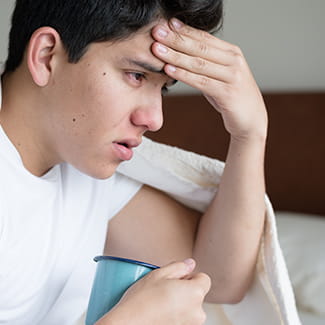 It's flu season once again and we have already seen the virus surface here in Denver. While it's a little early to talk about how severe the flu season is going to be this year, we can address one of the most common questions we get from our Denver Health patients this time of year: "How Do I know if I Have the Flu vs. A Cold?"

Denver Health pulmonary and critical care physician Sarah Roark, M.D. said symptoms of both the flu and cold can be similar, but that there are a few key differences to watch for.
Cold Symptoms vs. Flu Symptoms
Common cold symptoms include:
Upper respiratory issues
Stuffy nose
Coughing
Sinus congestion
Symptoms of the flu include:
Coughing that is more severe
Shortness of breath
Wheezing
Muscle Aches
Joint pain
High fever
How to Prevent the Flu
The best way to protect yourself and those around you from getting the flu is to get a flu shot. "Everyone six months or older should get a flu shot every year," Dr. Roark said. "The flu shot is safe and effective."
Anyone who thinks they may have symptoms of the flu should make an appointment with their primary care doctor immediately. "The flu can be deadly if not treated," Dr. Roark added.

Denver Health patients can make an appointment using MyChart, and new patients can find a Denver Health doctor online through our open scheduling system.
Learn More About Flu and Colds
Dr. Roark is leading a
Walk With a Doc
at 9 a.m., Saturday, November 23, at Cheesman Park to answer any other questions you may have about the flu vs. colds as well as where we are for this flu season.
Get a Free Flu Shot
Denver Health is hosting a free flu shot clinic from 10 a.m. - 2 p.m. on Saturday, November 23, at the grand re-opening celebration of the Bernard F. Gipson Sr. Eastside Family Health Center. Flu shots are also offered throughout the year at all Denver Health Family Health Centers and the Denver Public Health Immunization Clinic.