How to Refill Your Prescriptions Online Using MyChart
December 02, 2019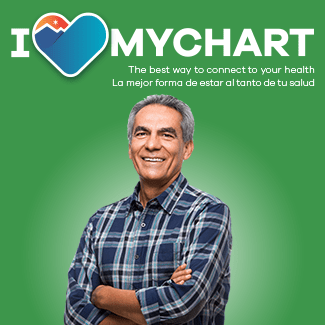 MyChart makes it easy to manage your health care journey at Denver Health – including your prescriptions at Denver Health Pharmacies – from your computer or mobile device. Here's how to do it.
Sign Up For MyChart
There are two ways that you can sign up for MyChart:

At a Denver Health facility by asking a staff member to help you sign up.

You can use your activation code, which can be found on your enrollment letter, bill or the last page of your visit summary (If you do not have an activation code or your code no longer works, click on "Request Online.").
Once you are signed up for MyChart, you can download the free app for either your iPhone or Android phone. You can then request or refill your medications at Denver Health Pharmacies anytime, anywhere – including from the comfort of your own home.
Manage Your Prescriptions
After you have talked to your doctor about your prescriptions, you will then be able to refill them at Denver Health Pharmacies using MyChart.
Go to "messages" to ask your doctor to set up, change or cancel a prescription through MyChart.

Select "medications" while using MyChart.
Refill A Prescription Online
Click on "medications"
Find the medication you want to refill
Click on the "refill" button
You will then choose the option of picking up a prescription at a Denver Health pharmacy or have the medication delivered to your home
The pharmacy will contact your provider to request and approve the refill
You will receive email or text message alerts to keep track of your prescriptions and when they will be ready/or delivered to you
Questions?
If you have questions about refilling your prescriptions online using MyChart, call our MyChart Customer Service Center, 8 a.m. – 10 p.m., Monday – Friday, at 303-602-4380 or email MyChart@dhha.org.